Friday, August 10, 2018 / by Vanessa Saunders
We've written in the past about Zillow and the problems it has with its Zestimates of home sale listings. (We even caught it listing the White House for sale, which we thought was hilarious until we remembered that it's inhabited buy a guy in commercial real estate.)
Recently, Zillow was caught using listing prices to tweak seriously off-the-mark estimates., something it said it never did. But in a
story
in Inman News recently, Zillow confessed that they have used listing prices in certain circumstances.The story details how Sacramento appraiser Ryan Lundquist noticed homes Zestimated at one price, which magically changed when the property appeared at a price divergent from Zillow's.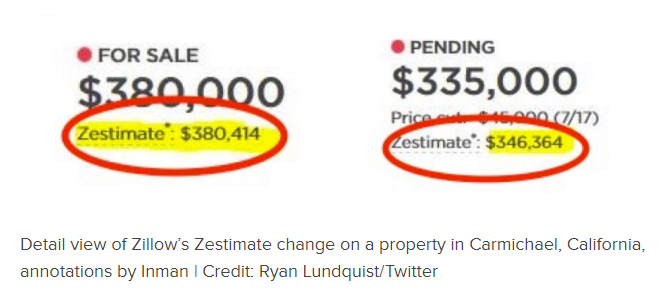 Lundquist posted, "This property was priced too high at $380,000 and Zillow's estimate was at $380,414. The price was reduced to $335,000 and right away Zillow's estimate changed to $346,364. This makes me think Zillow's algorithm gives huge weight to the actual list price. Hmm..."

Since then Zillow has been trying to fix the automated estimate algorithyms by publishing warnings with a robot icon when listings are priced differently than Zillow estimates. The warning, accompanied by the cute but broken robot icon says, ""The list price and Zestimate for this home are very different, so we might be missing something."
At no time does Zillow claim human intervention in its algorithyms, and we think this is the message here. Zestimates are created by robots, not humans, and certainly not by humans who have seen a property, know about its neighborhood, it's location or the special sauce it has that makes it more valuable than on its face. Remember, Zestimates come from robots, which are just as fallable as the humans they replace.
To find out the current market value of your home, you need professional help. Our PSA's (Pricing Strategy Advisers) can do that for you at no cost or obligation.
CLICK HERE
.
---