Monday, July 3, 2017 / by Vanessa Saunders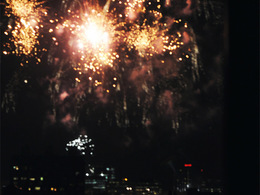 It's the Fourth of July, and what self respecting nationalistic celebration would be complete without bombs bursting in air? Oh, say can you see them anywhere nearby in the Hudson Valley? Absolutely, plus a whole lotta other shaking goin' on this holiday. Click Here.
For residents in the Lower Hud, our favorite place to take in aerial displays on the Fourth is the Hudson River itself. Park yourself in a boat above or below the Tappan Zee Bridge (the old one or the new) and take in fireworks from multiple river-towns at the same time. Nothing like a light-show in the privacy of your own, or better yet, in somebody else's boat!
Not a fan of crowds and big bangs? The Times has a whole list of OTHER things you can do with yourself on the Fourth. From what to cook, what to watch and a whole slew of stuff not involving spangling banners, click here!
---