Friday, September 7, 2018 / by Vanessa Saunders
This big ugly weed sprang up from a bed of Nasturtiums in our garden while we were on vacation for two weeks. It's about three feet tall, big leaves and really spikey seed pods growing all over it. I have been told it is commonly called Jimsonweed and is quite poisonous! Upon hearing that, I did what every normal person would do.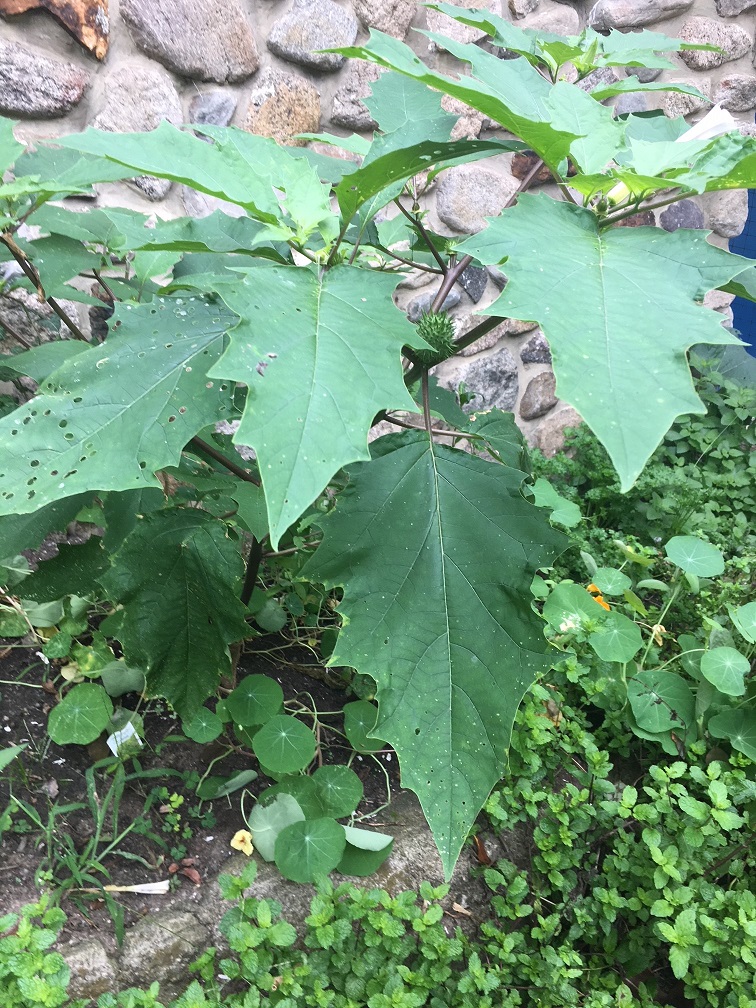 I Googled it!
Turns out its official name is Datura stramonium and it is indeed quite poisonous if any part of the plant is eaten, smoked or otherwise injested. It's known by the English names Jimsonweed or Devil's Snare, and is a member of the Nightshade family. It comes from Mexico, but has thrived in many other regions, including, apparently my backyard in the Hudson Valley.
It has been called a Thornapple and Moon flower, and it has the Spanish name of Toloache. Based on some other names it goes by, it apparently has a pretty nasty reputation. These names include Hell's Bells, Devil's Trumpet, Devil's Weed, Jamestown weed, Stinkweed, Loco Weed, Prickly Burr, False Castor Oil plant and the eminently imagined, Devil's Cucumber. How poor old Jamestown got involved with this plant I have no idea.
According to the big "G," the Zuni people once used Datura as an analgesic to render patients unconscious while broken bones were set. The Chinese also used it as a form of anesthesia during surgery.
The ancient inhabitants of what is today central and southern California used to ingest the small black seeds of datura to "commune with deities through visions". (My guess is that the current inhabitants of southern and central California still do.) Across the Americas, other indigenous peoples such as the Algonquin, Navajo, Cherokee, Luiseño and the indigenous peoples of Marie-Galante also used this plant in sacred ceremonies for its hallucinogenic properties. In Ethiopia, some students and debtrawoch (lay priests), use D. stramonium to "open the mind" to be more receptive to learning, and creative and imaginative thinking.
In his book, "The Serpent and the Rainbow," Wade Davis identified D. stramonium, called "zombi cucumber" in Haiti, as a central ingredient of the concoction voodoo priests use to create zombies.
In its defense, it has a really pretty flower that blooms at night.
---