Monday, February 15, 2016 / by Vanessa Saunders
Your garage can turn into a melting pot of junk, trash and disposable items that are only taking up space in your home. But a little effort and planning can help you avoid turning your garage into a dumping ground. Use the space in your garage to make it more than just a space to park your cars.
Home Gym
Think of all the intense workouts you could be doing in your garage if you cleared out the clutter! By simply sifting through the items in your garage and clearing space, you can have a dedicated home gym to work out in that can save you time going to the gym and spending money on a gym membership. You may need to make a few structural modifications to make sure there is proper ventilation and create strong wall and floor supports for heavier pieces of equipment.
Home Office
If you work from home, your garage may make an ideal home office space since it's separated from your traditional living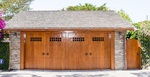 areas. With plenty of outlets, you could set up a homey and productive workspace with a desk, printer and Wi-Fi access. Add a mini fridge with drinks to help make the space even more comfortable while you are working to meet deadlines. Once again, organizing the items in your garage and getting rid of unused items will make the perfect space for a home office.
Guest Room
If you have a two-car garage, this can be great guest suite. Before you convert a separate garage, make sure to check on your city's zoning laws, since some cities prohibit freestanding living structures. Cities may also prohibit turning your one-family home into a two-family home. If you do get the go-ahead, make sure to insulate it and add a space heater and plenty of blankets while you're building. Using a portion of your garage as a guest room can offer your guests a private space without having to stay in a hotel.
Game Room
Always wanted a game room but just never had the space in your home? If you have a garage, you have the space for a game room! You can add area rugs, artwork, game-themed decorations and things like a ping-pong table, pool table, retro videogames, and more to create the perfect game room for your family.
Your garage doesn't have to just be home to your cars; you can make your garage much more than a garage simply by using these four tips and ideas for different uses. From a home office to a game room, your garage has so much potential – all it takes is a little planning and organizing!