Wednesday, June 5, 2019 / by Vanessa Saunders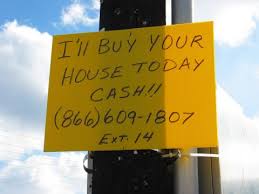 You see them so often you eventually don't even notice them. Usually tacked to a telephone pole, signs like this promise to pay cash for your house. "Any condition," or "Any reason," they shout. But what's the deal with these guys?

Sometimes, the fast cash buyer is just a dishonest real estate agent trying a little subterfuge to get a listing. Some brokerages make sellers an "If We Don't Sell It In 30 Days We'll Buy It" offer or some other guarantee. There are actually some legitimate business people who invest in real estate and provide a service, however expensive, to those who need it. And then there are the fly-by-night types who are looking to rip off gullible home sellers.

Fast cash house buyers used to be referred to in polite company as equity purchase companies (EPs). A better name used for them now is "opportunity investors," because they purchase homes from people in some kind of financial distress. But the opportunity is for the fast cash buyers, not the desperate sellers. These sellers need to unload the burden of home ownership for whatever reason: foreclosure, divorce, bankruptcy, homes in probate, job transfer or loss, trashed or damaged homes.

Fast cash companies usually offer to close quickly, in a matter of days or weeks, which they can because they don't need lender financing. Sounds like a dream come true for owners desperate to get out of a home and its mortgage as soon as possible. But it's a dream with a serious price tag.

One strategy cash buyers use is to point out that the seller won't be charged real estate commissions. What sellers fail to realize is that the commission they would pay to an honest REALTOR® is tiny compared to how much they stand to lose taking the cash buyer's offer. These operators cut corners wherever they can in the process. They typically process the sales in-house instead of hiring an outside service, and they pay for their own title policies or even skip title insurance altogether.

What do these cash buyers pay?
The buyer representative you speak with will want to set up a prompt appointment to see the property. One of the first things they will want to know is how much you owe on your mortgage. If, for example, you still owe $50,000, that's pretty much what your cash buyer will be offering you. Don't bother trying to negotiate. They don't budge. Cash buyers want to get the lowest possible price for your home, which usually ends up at around 65% of its fair market value. The less they pay, the faster they'll want to close. Fast cash buyers may make cosmetic repairs and "flip" the home, or they resell your home to a conventional buyer for a higher price as soon as you close, and pocket a tidy bundle.

If a home owner has a serious reason to sell his home quickly and isn't concerned with return, fast cash buyers or investors may be an option. It is rare that the sellers will wind up with more money than they would have if they'd actually listed the house with a REALTOR® and let the free market show what their house is really worth.

That being said, the seller still needs to vet the lender. First, look at that sign. Does it have the name of a company or just a phone number? Any fast-cash buyer who is even halfway legitimate will almost certainly have a website. Go online and look for it. Try to trace the posted phone number to find a name associated with it if that's the only information you have, but you might not have much luck. Many of these buyers route phone calls through services so they're untraceable.

I don't know about you, but all my red flags fly when I see fast cash signs. Hiring a REALTOR and putting the house on the market will get a seller a price much closer to fair market value. Unless the seller needs to sell immediately, it can be done by a REALTOR® almost as quickly, and for more money, and the sellers will be far better protected against fraud.
---