Monday, December 16, 2019 / by Vanessa Saunders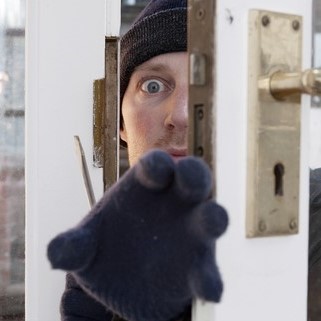 A recent spate of hackers breaking into Ring home security cameras has made us wonder if such devices offer more protection for our home and loved ones, or less. In a video that made the rounds of the national news networks recently, a family in Mississippi discovered their eight year old daughter terrified when a man's voice started speaking to her through the camera, repeatedly calling her a racial slur and saying he was Santa Claus. She screamed for her mother.
There have been at least three similar cases reported this month — the others were in Connecticut, Florida and Georgia. Other breaches, involving Google's Nest and Taococo, a baby monitor sold on Amazon, have also drawn scrutiny and prompted concerns about privacy.
So far, manufacturers of the cameras have denied that their security cams were at fault, claiming that user's login credentials were too easily guessed. A statement released by Ring said, "Our security team has investigated this incident and we have no evidence of an unauthorized intrusion or compromise of Ring's systems or network," the statement said. "Recently, we were made aware of an incident where malicious actors obtained some Ring users' account credentials (e.g., user name and password) from a separate, external, non-Ring service and reused them to log in to some Ring accounts."
Ring users can monitor the cameras on the company's smartphone app and speak to people inside their home and at their front door using a two-way audio feature. But cyber security experts say all it takes is a user name and password for hackers to gain access to the devices.
Tim Weber, security services director for ADNET Technologies in Farmington, Conn. Weber, who is a certified ethical hacker, said he had not seen any evidence that Ring's operating platform had been breached. He recommended that people avoid reusing old passwords because they could have already been compromised as part of a previous data breach without users even knowing it. "People are honestly struggling right now because they have so many passwords to maintain," he said.
How to keep your systems more secure
Don't leave a list of passwords laying around the house.
This sounds too obvious for words but people are far too trusting, and too willing to sacrifice security for convenience. Visitors or a roommate could easily take usernames and passwords. Instead, use a password manager or an online vault such as Keeper. And maybe get a different roommate as well.
Use multi-factor authentication.
You know those personal questions banks ask you to choose when setting up online banking? They do it for a reason. Hopefully you wont use easily deduced answers like birthdays (Facebook knows that one),
or a pet's name (your neighbors know that). Multi-factor authentication is offered by most internet camera manufacturers, but must be implemented by the customer.
Use pass PHRASES instead of passwords
Because they are harder for hackers and computers to guess. Also use symbols, numbers as well as upper and lower case letters.
Protect your computer by using a separate Wi-Fi network for smart appliances
Put all your smart home accessories — for example, your Amazon Echo, Nest thermostat, Samsung smart refrigerator and Philips Hue smart lights — onto a Wi-Fi network that is separate from the one connected to your computing devices, like your smartphone, tablet and computer. With two distinct Wi-Fi networks, it will be harder for a hacker to jump from infiltrating your smart accessory on one network to a personal computer on the other network
Stay up to date with updates
It's up to the consumer to stay on top of updates. Regularly log into the mobile apps or websites for their smart home accessories to check if they need software updates. If updates are available, install them immediately.
Go dark
For the truly paranoid, a piece of tape over the laptop webcam or muting smart speakers like the Amazon Echo or Google Home is the ultimate solution to home privacy. And maybe having cameras in bedrooms and bathrooms is just a little bit OTT, don't you think?


---