Monday, July 15, 2019 / by Vanessa Saunders
Near Future Home Price Prediction
Hudson Valley home owners we speak to who are anticipating putting their homes on the market often ask where home prices will head throughout the rest of this year, as well as where they may be going over the next few years .
We've gathered current data from the nation's most reliable financial sources to give our clients a glimpse of where prices may go:
The Home Price Expectation Survey – A survey of over 100 market analysts, real estate experts, and economists conducted by Pulsenomics each quarter.
Mortgage Bankers Association (MBA) – As the leading advocate for the real estate finance industry, the MBA enables members to successfully deliver fair, sustainable, and responsible real estate financing within ever-changing business environments.
Zelman & Associates – The firm leverages unparalleled housing market expertise, extensive surveys of industry executives, and rigorous financial analysis to deliver proprietary research and advice to leading global institutional investors and senior-level company executives.
Freddie Mac – An organization whose mission is to provide liquidity, stability, and affordability to the U.S. housing market in all economic conditions extending to all communities from coast to coast.
The National Association of Realtors (NAR) – The largest association of real estate professionals in the world.
Fannie Mae – A leading source of financing for mortgage lenders, providing access to affordable mortgage financing in all markets.
Here's the home price appreciation these experts are projecting over the next few years: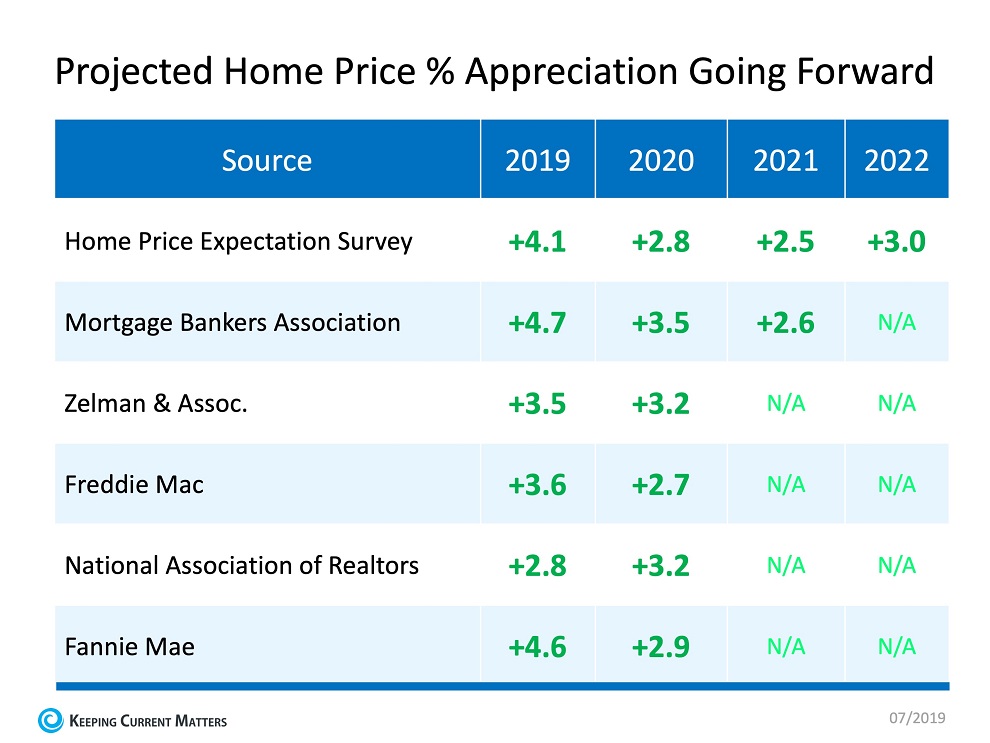 Global Property Systems says:
Every source sees national home price averages continuing to appreciate, which is great news for the strength of the market. The increase is steepest throughout the rest of 2019, and prices should continue to rise as we move through 2020 and beyond.
---