Wednesday, November 21, 2018 / by Vanessa Saunders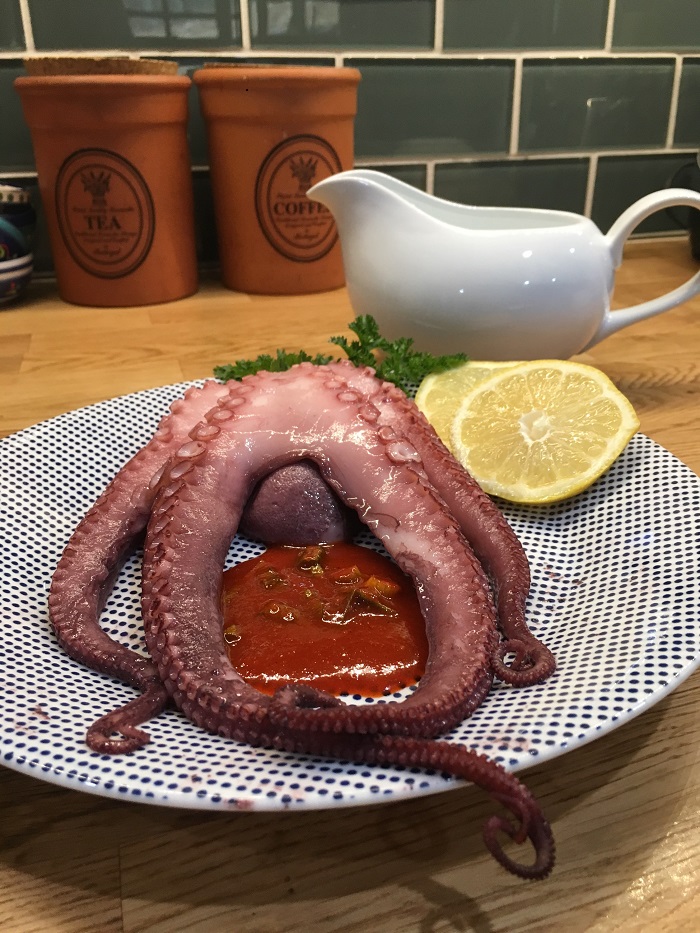 Ahh! You've done it! You wangled an invitation to dine Thanksgiving Day at a friend's or relative's. This year, your only job is to show up on time, breathe deep the aroma of a roasting feast, and provide at least a little witty post-prandial conversation over a glass of sherry.
Not so fast, Feastmaster. You'll have to BRING something!
If they said "Just bring yourself," don't you believe it. Even if you're thinking just a bottle of Vin Ordinaire, think again. That's the cheap and easy way out, especially when there are some easy, brilliant dishes you could contribute to the fray, even if you don't really cook or have a lot of time. The kind folks at MyRecipes.com have some great ideas, (which I won't detail here except for posting the link, because I have my own turkey to stuff). But if you are interested in something a little out of the ordinary (not including the boiled octopus pictured above) you could do worse than some of the ideas MyRecipes brings to the table.
For the hurried and harried, they suggest a simple crostini. Or easy Red Pepper Jelly and Brie Bites. Not culinarily inclined? You could get kudos galore for making Goat Cheese Poppers and Honey. They require only two cooking techniques – mixing batter and frying goat cheese. And you'll be a star.
Want to go healthy? Bring their recipe for a crispy Brussels Sprouts Gratin and don't forget your yoga mat. Are you one of those brave souls who promised to bring the turkey? They've suggestons for that too.
If your dinner hosts are open to the untraditional, MyRecipes has some ideas for that as well. Make the Shrimp, Cabbage and Carrot Pot Stickers for a memorable side the Pilgrims never dreamed of. And if it comes to it and you HAVE to bring booze, get creative, and instead of that $25 bottle of wine no one will remember who brought, bring a thermos of Maple Old Fashioned cocktails, or a pitcher of seasonal Cranberry Sangria.
So if you're a guest with more to bring than yourself and are short on ideas, time or talent, we suggest you check them out.
And, no Mary. This is not a hint as to what to bring to Thanksgiving dinner tomorrow. Dessert will be fine!
---