Thursday, August 13, 2015 / by Vanessa Saunders
It's hurricane season once again, and for those of us in the Hudson Valley, visions of the devastation brought by Hurricane Irene and super-storm Sandy come to mind. Homeowners, especially in the areas severely affected by storms, probably have insurance policies in place to protect at least some of their property from damage. Any home with a mortgage is required by the lender to have home owners insurance. But quite a few renters I've met lately either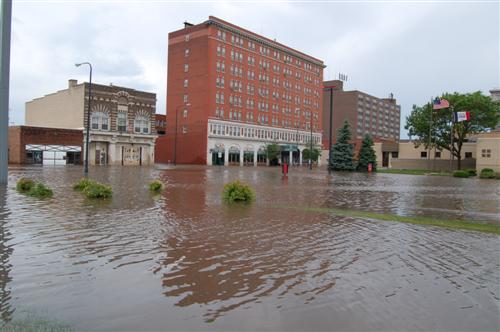 don't get or know about renters insurance.
Renters insurance is a great idea for anyone living in an apartment or rented home. Basic renters insurance is very affordable - basic policies in New York start at around $150 a year. It offers not only coverage for damage or theft to your stuff, but also offers limited liability coverage as well. If you or a loved one rents and is planning on getting insured, here are a few questions to ask your prospective insurer.
What's of my stuff is not covered?
Most of a renter's personal belongings - furniture, clothing, electronics etc. - are covered in a standard renters policy. Some high-cost items are not, like expensive jewelery, furs and silverware. Computers are, for the most part, unless you have a home office with computers in it. Additional coverage is usually necessary for business equipment.
What disasters are covered?
Usually your insurance will cover you against theft, fire, smoke, explosions and water damage from bursting pipes and overflows. Breakage is typically not covered, i.e. dropping your laptop on the kitchen floor.
Storm coverage is tricky. Wind damage is covered but water damage from seepage or a leaky roof isn't.
For some renters with below-grade or basement apartments, there is no coverage for damage from floods or excessive rain. For some renters in the Hudson River Valley area, some insurance companies refuse any renter's insurance. We touched on this in a previous article. State Farm has designated an exclusion zone along the river for several miles inland since Sandy. The person I contacted at the State Farm was purposely vague about just how big or where it extended. Instead, she suggested people should contact a State Farm agent to see if their apartment is excluded. My suggestion: contact an Allstate agent instead. Allstate has no such restrictions in the Hudson Valley.
Am I covered for accidents in my apartment?
Most policies cover your liability for damage you do to someone else's property (your tub overflows and runs into the downstairs apartment) or injury to visitors and guests. A typical policy covers up to $100,000 in damage. For an extra $50 a year, you can buy up to $500,000.
There is one exception to rental liability insurance. If you sub-let or rent out any part of your apartment (such an an "Air BnB"), you may not have liability included in your policy. Check first. Also, if you employee someone who works in your home for 40 hours a week, New York State requires you provide workers compensation and statutory disability insurance.
What about roommates?
Roommates are covered differently than spouses and immediate family members who live with you. Only two roommates can be named on most policies. The trouble with roommates is that when there's a claim, the check is made out to both of you, which can be a problem if the roommate moved out long ago.
Are pets covered?
Liability for pet bites is covered by the liability portion of your policy unless you own what qualifies as an "aggressive" breed: a Rottweiler, pit bull or wolf hybrid.
What's covered outside the apartment?
Pretty much whatever is in your rental unit is covered away from home if damaged by the same perils at home. Leaky pipes, fire, theft, etc. If it isn't, you may be wise to take out extra insurance to cover specific items, such as that $5,000 bicycle you keep in the basement.
One tip for renters, which applies to most insurers, is to not make claims on minor losses. In New York, many insurers have a "two strikes and you're out" policy which says, if you have two claims in a three year period, your coverage may be cancelled. The exception to the two-strike rule: claims from major disasters like Hurricane Sandy are considered "catastrophic losses" by the insurance industry and are not counted. Get a policy with a high deductible and save money on premiums, or take care of minor mishaps on your own. Insurance is the only thing we buy which is better off unused.