Wednesday, April 22, 2015 / by Vanessa Saunders
If you're thinking of putting your home on the market, there's good news from Freddie Mac. The mortgage market giant is predicting 2015 will be a terrific year for home sales.
"Between now and the end of June, we'll see about 40 percent of all home sales for the year," said Freddie Mac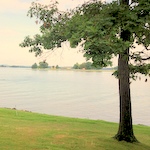 Deputy Chief Economist Len Kiefer. "Overall, we're feeling good about housing and we expect this year to be the best year for home sales and new home construction since 2007 when we saw total home sales about 5.8 million for the year."
Improved job prospects have started to drive those aged 25-34 back to the labor force, with 76.8 percent employed as of last month, up from 75.9 percent last year. That means more Americans have income available to purchase homes or save a downpayment.
As rents rise, young people will pay at or above inflation in 2015; therefore, more renters will see homeownership as a better option. Nationally, rents increased an average of 3.6 percent in 2014 and nearly 11 percent over the last three years.
Those who decide to buy will likely find mortgage interest rates remain reasonable by historic standards. Freddie Mac is predicting the average 30 year fixed rate mortgage will be 4 percent for the year.