Tuesday, September 17, 2019 / by Vanessa Saunders
While planting perennials last evening I came across this charming little yellow caterpillar! He was taking a joyful walk up the neighbor's drive with such verve and determination that I had no choice but to video him. He was so cute, all yellow with those funny little black feathers waving in the air. I wanted to pick him up and give him a good cuddle.
But after shooting this video and saying goodbye as he continued neighbor-ward, I did what any vigilant lepidopterophile would do - I googled him.
Turns out this little bugger is poisonous!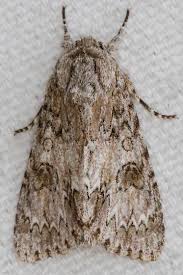 It is the caterpillar stage of the American Dagger Moth (Acronicta Americana), a not so impressive but well camouflaged gray-beige moth, which grows to a wingspan of about 2.5 inches. In its caterpillar stage, those black spikes on the little yellow worm are full of toxins which squirt out if the bug is touched or otherwise disturbed. On human skin, the toxins form large, itchy red welts in a few hours which are not a pleasant thing.
This time of year is cocooning season for these and other moth species. American Dagger Moths are quite prevalent in the Northeast and the Hudson Valley. If you come across one in its yellow to white caterpillar form, look, like and even video it all you want, but don't touch!
---