Sunday, March 22, 2015 / by Vanessa Saunders
I don't know if it's the phase of the moon, the Ides of March or daylight savings time, but somebody out there must be telling people they HAVE to have twenty to thirty percent down to buy a home. On several occasions this month, we've had people contact us looking for rentals because they are sure they don't have enough savings for a down payment on a house.
The fact is, many buyers can qualify for a mortgage with a down payment as low as 3.5%! The trick is to get an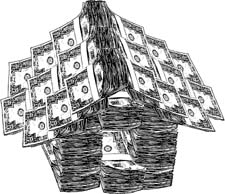 FHA backed mortgage from your lender.
The federal government has been backing home loans since 1934 with the FHA loan program. An FHA loan is a mortgage insured by the Federal Housing Administration, a government agency within the U.S. Department of Housing and Urban Development. Borrowers with FHA loans pay for mortgage insurance, which protects the lender from a loss if the borrower defaults on the loan. Lenders are happy to write FHA loans, because the government takes all the risk out of the deal.
Not so perfect credit is not so big a deal
FHA has many great benefits in addition to a low down payment. FHA can help borrowers with less-than-perfect credit obtain a mortgage and achieve the dream of home ownership faster. Getting an FHA loan is not a difficult trick for many applicants. The lowest credit scores needed to qualify for FHA loans depend on the kind of loan the borrower needs. To get the aforementioned 3.5 percent down payment, the borrower needs a credit score of 580 or higher. Those with credit scores between 500 and 579 must make down payments of at least 10 percent. You can obtain an FHA loan on 1 – 4 unit primary residences, and finance up to $625,500 for a single family residence in the Westchester, NY area. Buyers can click this link to find the loan limit in your area:https://entp.hud.gov/idapp/html/hicostlook.cfm.
Barry Goldenberg, Senior Loan Officer for Luxury Mortgage explains that FHA mortgages are very favorable for borrowers with a clouded credit history. "FHA mortgages allow for looser credit requirements than conventional mortgages especially when it comes to someone who has previous bankruptcy. Conventional mortgages require that a bankruptcy must be discharged for 4 years in order to be eligible for financing while fha mortgages allow for financing to someone with a bankruptcy discharged after 2 years. In some cases it will allow for financing after 1 year with extenuating circumstances behind the bankruptcy,"
"FHA mortgages also allow for more flexible underwriting requirements including higher debt to income ratios depending on compensating factors. Not to mention FHA mortgages offer even more competitive rates than conventional mortgages do."
Borrowers can use their own savings for the down payment, get a gift for the entire down payment and closing costs, and in some circumstances obtain a grant from a state or local government down payment assistance program.
One other feature is that seller's can contribute up to 6% toward closing costs. This is twice what conventional programs offer. The one rule with FHA is that the borrower's investment is 3.50% so a seller concession can only cover actual closing costs and money due for escrows such as homeowner's insurance and property tax. As mentioned above, getting a gift counts towards the borrower's 3.50% investment.
Mortgage Insurance is Required
While mortgage insurance is required, FHA recently lowered the premiums allowing borrowers to enjoy lower payments or even expand their qualifications to buy. The first premium is paid up front when the borrower gets the loan and can be financed as part of the loan amount.
The second is an annual premium, which is paid monthly. This premium varies depending on the term of the loan, the amount borrowed and the loan to value ratio.
Needed extra cash for repairs is available
For buyers who need extra money to renovate or make repairs on their newly purchased home, There is a unique financing program called the FHA 203K program which allows buyer to finance renovations and repairs, from simple cosmetic changes to more complex structural issues. Borrowers can finance a minimum of $5,000 in repairs to improve the property.The loan amount is based on the projected value of the home after repairs are completed. An FHA HUD Consultant will work with you to determine the amount of repairs needed and/or desired so you can work with your lender to determine the amount you will want to finance.
Because the FHA is not a lender, but rather an insurer, borrowers need to get their loan through an FHA-approved lender and not through the federal government. Because lenders can call the shots, not all FHA-approved lenders offer the same interest rate or costs -- even on the same FHA loan. Costs, services and underwriting standards will vary among lenders or mortgage brokers, so borrowers should shop around for the loan that suits them best.
Thanks to Barry Goldenberg, Senior Loan Officer at Luxury Mortgage, for his input on this article.