Thursday, September 26, 2019 / by Vanessa Saunders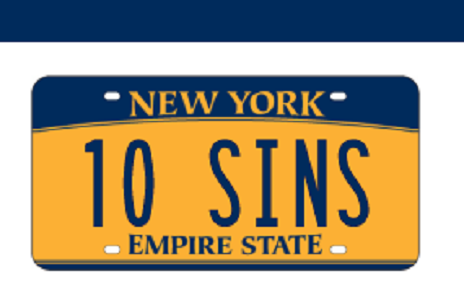 Sure, everybody makes a mistake now and then, but making a mistake in selling your home can be costly. Consider our list of the top ten "sins" sellers can commit and take them to heart. Please!

10. Waiting until spring to sell. People buy homes all year, so play up the home's seasonal amenities and take advantage of serious buyers looking in the off-season.
9. Not understanding the real estate contract. Go over the fine print of the agreement with your REALTOR® or attorney before signing to make sure you understand your responsibilities as well as any demands the buyer has made.
8. Going it alone without researching first. Selling a home for-sale-by-owner takes time, and requires you to do paperwork, marketing and showings. Make sure you're up for the work involved in return for saving on the real-estate agent commission fee.
7. Ignoring low-ball offers. If buyers submit a low offer, don't reject it completely. Make an offer is just the start of a conversation. Counteroffer to see if they are willing to negotiate.
6. Wasting time on an unqualified buyer. Make sure a potential buyer is pre-qualified for a loan before accepting an offer.
5. Skimping on marketing. Target your marketing where your most likely audience will see it: with a Virtual Tour on the Internet. 90% of buyers start looking for a home online, typically forming a 5 to 10 home short-list, contacting an agent and touring their list in about a week. Online listings are also seen by international buyers and investors looking to buy property in the United States. Global Property Systems provides both a narrated Virtual Tour and a thorough individual website for every property we list for sale.
4. Sabotaging the showing. Leave the home when it is being shown to prospective buyers so they can more easily focus, and make sure the home is accessible with convenient showing hours and a lock-box for agents.
3. Not prepping for the sale. Visit open houses in the neighborhood to get a sense of what the competition offers, then make fixes and updates, declutter and clean to outshine them.
2. Overimproving. Don't make so many upgrades that you price your home out of the appropriate range for the area and fail to recoup your investment.
1. Overpricing. Your home should be priced in line with homes in the area that are of similar age, style and size. It's actually smart to UNDER-price slightly, to get multiple offers. This often generates a bidding contest and a final selling price above the current market.
---