Friday, September 18, 2015 / by Vanessa Saunders
Everyone is being more careful with water these days. Some communities have strict rules on water usage, and even in areas where there reservoirs are full, homeowners are being careful for both environmental and financial reasons.
The move toward more water-friendly landscaping is not only smart - it is imperative. We've curated several ways to make sure that your lawn is healthy, vibrant, colorful, and even drought-resistant.
#1: Replace Grass with Granite
Decomposed granite is a great alternative to gravel and grass and comes in a variety of colors. Using these small pellet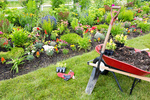 sized bits of rock to line your walkways gives your landscape an upscale appeal.
You can even replace your entire lawn with this material. It creates a porous landscape so that water does not run off, but rather seeps into the ground. It may sound like rough treading with a granite lawn, but it is not. The fine pebbles are soft underfoot and comfortable to walk on.
#2: Combine Native Plants with Drought-Resistant Grass
If you live in the southwest, the number of native plants to choose from is seemingly endless. If you really want your landscaping to shine while saving water, combine colorful native plants with drought-resistant grass. Here are some water-friendly grasses and plants that use half of the amount of water as a typical grass lawn:


Aloe


Buffalo Grass


Feather Grass


Fescue


Flax


Hair Grass


Jasmine


Lavender


Perennials


Shrubs


#3: Make Stone Pathways Over Grass
When you incorporate these low maintenance grasses and plants into your landscaping, you eliminate the need for constant watering or even mowing. Adding stone pathways over these low growing grasses make a perfect accent to spruce up your lawn. Use heat-resistant stone to make walking along those pathways comfortable. Flagstone is the most popular, and comes in many varieties including mosaic, milled, square pavers, slabs and veneers.
#4: Use Planters for Flowering Plants
Finally, strategically placed concrete planters enable you to maintain your flowering plants in small sectioned areas. Instead of watering an entire lawn of water-guzzling flowers, you can maintain your roses and tulips in ceramic urns or concrete planter boxes.
This adds drama and color to your earth toned pavers and decomposed granite lawn. Place a tree or two around your patio for shade. If you combine all four of these water-friendly tips, your lawn will be the talk of the town not just for its conservation, but for its beauty too!