Wednesday, October 16, 2019 / by Vanessa Saunders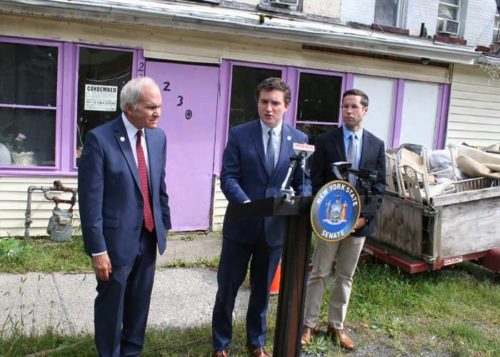 A bill passed in early September by the NY Assembly which was intended to identify owners of crumbling single family rental units in Upstate New York has had a surprising affect on condo ownership in NYC. And boy, are the condo investors and realtors hopping mad!
The bill, which we
reported on here
, requires all LLC owners to identify themselves in transactions involving one- to four-unit buildings. The bill was designed to tackle an issue that had little to do with New York City. It was passed after a six-month investigation into code enforcement that focused on cities and towns including Albany, Newburgh, Mount Vernon and Ramapo. The investigation found that problems posed by abandoned homes owned by anonymous LLC corporations were amplified when the owners were unknown.
Apparently lawmakers and real estate investors thought it would simply codify measures already in place in New York City and apply them statewide. But they were surprised to see it interpreted to include all residential condos in New York — and to make owners' names available to the public through freedom-of-information requests. (The existing disclosure rules in New York are not subject to FOIL requests or public databases.) As the bill makes LLCs subject to FOIL requests in New York City, it means journalists and others parties could conceivably get the names of anonymous buyers.
So what's wrong with knowing who buys condos in NYC? According to some real estate investors, the transparency would spook celebrities and high-profile buyers who rely on LLC ownership for privacy. They claim it would deter investment in residential real estate. Almost every newly constructed condominium is in the name of an LLC. Many of these ownership structures involve REITs, retirement funds and publicly traded corporations. A sponsor is not realistically capable of listing all of the shareholders of a REIT or publicly traded corporation, which may consist of hundreds of thousands of shareholders, some of which may be funds themselves.
Regardless of its intentions, the law, which drew little attention when it passed, now has real estate professionals scrambling to understand its implications. This certainly isn't the end of the story, and we will continue to monitor the issue as it unfolds over the next weeks and months.
---