Wednesday, November 11, 2015 / by Vanessa Saunders
If you are thinking about selling your home or just giving it an update, it's important to think less "trendy" and more "classic" when it comes to remodeling. These four classic remodeling projects will add value to your home and give you a great return on your investment.
Front Door Revamp
If you don't use your front door often, you may not notice that it needs updating. Think of your front door like the cover of a book – it gives a good idea of what may be inside. If your front door is difficult to open or looks significantly dated, it may not yield a positive first impression. If your front door isn't in need of replacing, give it a fresh coat of paint and replace the door handle. This easy and simple update will give you a 75% return on investment.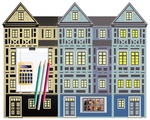 Window Replacement
Potential buyers are interested in the look of your windows and their functionality. If your windows aren't energy efficient, it's time to replace them. Whether you live in a warm or cold area, buyers will appreciate new windows that will lower their electric bill. New windows are a high selling point for many homes. Replacing your windows will give you a 72% return on your investment
Closet Organization
A cluttered closet is the last thing a potential buyer wants to see. Storage is high on the list of priorities for the majority of homebuyers. If your home has small closets or very few storage places, make the space more efficient with closet organizers. This easy remodel will change the way your closet functions and will appeal more to homebuyers looking for more storage. If you aren't selling your home, the closet organization may save you time when looking for items you need.
Increase Lighting
Buyers want to see bright rooms with plenty of light. If your home lacks sufficient lighting, it may be time to replace bulbs or replace lighting fixtures. Add recessed lighting to your living room or kitchen to brighten the rooms up. If you always have your curtains closed, try getting in the habit of leaving them open to let more natural light in. If necessary, replace your window treatments to give your home a lighter look and feel.
These four classic remodeling projects are something you should consider doing whether you are staying in your home or selling it. Even if you aren't placing your home on the market now, doesn't mean that in the future your decision might change. These projects are simple, cost-efficient and will give you a significant return on your investment.