Thursday, March 15, 2018 / by Vanessa Saunders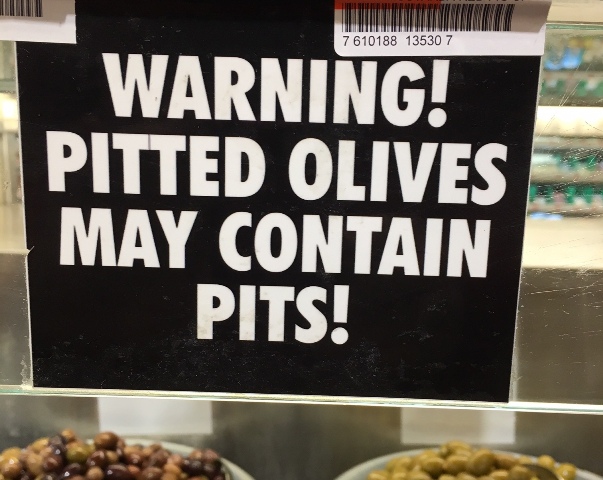 I was amused by this sign I found posted in our local Fairway grocery store. It seems you can't count on anything these days, even on pitted olives being devoid of pits. It occurred to me that buying a home should come with a similar disclaimer, because even the most reliable information about a property may be incorrect.
This is especially the case with home inspections. In 2006, New York state enacted a law requiring licensing for home inspectors. The licensing act set a very low bar in order for a home inspector to be licensed. Before licensing there were approximately 800 home inspectors in New York. Now there are 2,500 to 3,500. The long and short of it is that licensing does not mean the inspector is competent or reliable.
Part of the problem is that inspectors rely on real estate agents for recommendations to clients. But the more thorough an inspector you are, the fewer referrals to clients you will probably get. A thorough home inspection finding problems can reduce the selling price, and ultimately, the realtor's commission. A serious enough problem can cause a deal to fall through, and the realtor will have to start looking for another buyer.
Global Property Systems does refer clients to a couple inspectors that we know will do a thorough, honest job. We feel it helps maintain our good reputation by only referring to qualified home inspectors. In addition, we have no problem with clients who want to use someone else. The most important thing to remember is that the home inspector should be representing the buyer in a real estate transaction. The home inspector should be independent of the real estate agent.
This is addressed in the Code of Ethics and Regulations for Home Inspectors. Section 197-4.7 says, "The duty of every home inspector shall be to the client. Home inspectors shall avoid conflicts of interest or activities that compromise their professional objectivity, or have the potential of creating an appearance that their professional objectivity has been compromised."
That being said, even the most thorough and honest home inspector cannot inspect everything. A good example of this is the presence of mold in a home. Mold thrives in damp places. Often, health experts say, ideal breeding grounds are the insides of walls and ceilings exposed to a recurrent source of moisture from a roof or plumbing leak. Some household mold can be toxic or can cause reactions for those with allergies to it. But detecting mold can be a tricky game of cat and mouse.
There are any number of strategies inspectors use to track down the pesky mold spore factories that can grow totally out of sight. Home test kits, available for about $50 are a good first step, detecting various kinds of mold present. Some inspectors trust their noses. They seal up a room as best they can, place a vent fan in a window sucking air out of the room, then inspect and sniff every crack they can find. Others try to get behind walls any way they can, through electrical boxes or other openings in walls and sampling the dust present for spores. Ultimately, if mold is in a suspected area, inspectors can drill holes in drywall and test the dust for mold.
Global Property Systems says:
What you see may often be what you get, but in some cases, it's what you can't see that'll kill you.
---