Tuesday, October 13, 2015 / by Vanessa Saunders
We had a magical thing happen in real estate last week. Chinese buyers made an offer on one of our properties sight unseen at full price. They saw it on our website and made us an offer.
You heard me.,
It seems that Newton's Third Law of Motion "For every action there is an equal and opposite reaction" applies to real estate as well. Recent drops in the August and September Chinese stock markets are driving Asian buyers to New York, and to our website. The Chinese see U.S. real estate as a relatively moderate-risk, but high-return investment.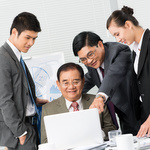 Wealthy Chinese are already the largest group of foreign real-estate buyers in the US. 16% of the single homes and condominiums purchased by foreign buyers were purchased by Chinese last year, according to the US National Homebuyers Association. They led the Canadians, who bought 14% of homes. Apparently for the weather.
Wealthy Chinese are really caught in between a rock and a hard place: Leave their assets in China to potentially weather additional market volatility and yuan devaluations — or put it in real estate that is now more expensive than just a few weeks earlier. But there are other reasons to stash some cash in the USA. America is also seen as more politically and socially stable. It's also out of the view of the Chinese authorities. Chinese President Xi Jingping started focusing on an anti-graft campaign back in November and many wealthy Chinese entrepreneurs are anxious to stay away from government scrutiny.
Chinese individuals are also being actively encouraged to buy abroad by the government. Thus far, Chinese citizens have been allowed to convert $50,000 into other currencies annually — though there are many ways to skirt this regulation.
That is about to change, with the Chinese government readying the launch of the Qualified Domestic Individual Investor program. The QDII2 is an overseas-investment program that would allow Chinese citizens to invest overseas directly. Those with at least $160,000 in financial assets qualify. The program will probably launch this year and should further increase overseas real-estate purchases coming from China.