Wednesday, March 4, 2015 / by Vanessa Saunders
For buyers and sellers alike, negotiating comes into play whenever a home sale is considered. Your style of negotiation, from gun-slinger to diplomat, is part of your nature. But your strategy for negotiating the sale or purchase of a home starts with knowing the facts.
Real estate is like San Francisco weather - depending on where you are at a particular time or neighborhood, it may be hot, cold, windy, sunny or cloudy. Knowing the state of the market where you are is essential to negotiating a deal, because different markets require different strategies.
Also, knowing the property itself, its condition, amenities and its value relative to the other sold properties in the area is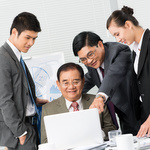 valuable information and also dictates the negotiation strategy. This is where your Realtor comes in handy. Rather than you spending hours and days finding out this information, a seasoned agent with years of experience in an area and access to public records and legal documentation knows these facts well. They've seen things come and go, they work with other agents, and it's part of the value an agent brings to the table. Find a good one, let them do their work, and listen when they tell you what they know. Negotiating a real estate transaction can be a very intense, very fast process. Better to have a gladiator on your side when it comes to a battle in the arena.
Setting your Strategy
For a buyer, some suggestions can make a big difference in finding and buying a house. First, do your homework. Learn about the neighborhoods you are interested in. Ask questions. Ask a lot of questions. It's the only way you'll learn. Also important, as they say in poker, is to keep your cards close to your vest. Share information about your financial situation and your emotions only with those on your side. And use an agent you feel you can trust. Listen to that little voice that whispers "used car salesman." You want a straight shooter advising you in this transaction.
The single most important factor in negotiating a real estate deal is knowing the condition of the market. Markets can vary from community to community, town to town, neighborhood to neighborhood. It can be a buyer's market, where inventory is high, competition between sellers is hot and the buyer has the upper hand. Or it can be a seller's market, where buyer competetion is high for a few homes in a popular area, prices are high and negotiations can drag out. It can be a balanced market, where there is an equal supply of buyers and sellers. Again, this is something your Realtor can help you understand based on their knowledge of the area.
Negotiating in a Buyer's Market
When the buyer is in charge, no request is out of the question. Buyers can negotiate the price and typically offer at least 10% less than the price they want to pay. They may ask for seller-financed closing costs, appliances, furniture and basically, the moon. And you know what? They'll probably win. Buyers in a depressed market are large and in charge.
Negotiating in a Seller's Market
When homes are scarce and sellers have all the clout, style matters. If a seller has a desirable home and doesn't like your offer, your attitude or your car, he doesn't have to worry about negotiating with you. Another buyer will be along shortly. Buyers cannot spend a lot of time playing waiting games and thinking about a home once they've found it. Buyers need to make a quick decision, maybe an offer on the same day.
For buyers in a seller's market, the best advice is to do as much of the heavy lifting as possible, to keep it simple for the seller. Get pre-approved for your mortgage and know your budget. Also, only ask for contingencies that protect you, and do not tip the balance too much in your favor. Financing, appraisal and inspection only please. When you make your offer, don't stray too far from the asking price. If you want personal property, offer to buy it in a private transaction outside the real estate deal. Do you really want to pay your realtor a commission on the settee? Your goal here is to buy a house. Be happy if you get the one you want.
A balanced market is a much saner, less stressful situation, because neither side feels pressured to give or take. Transactions can take longer, because there is less competition for the property. In this case, personal priorities take over, and either side can ask for or grant concessions. Often, differences end in a fifty-fifty split.
Negotiating in a Balanced Market
Buyers in a balanced market can feel pretty safe offering less than asking price, with normal financing and inspection contingencies. Feel free to ask for terms that benefit you, and for personal property you may want. Most deals settle comfortably for both parties, as each gains and gives up relatively equally.
Knowing your market is a powerful tool in setting your negotiating strategy. Your Realtor can be the key to negotiating a successful real estate deal and getting you the home you want at the best price possible.