Monday, February 18, 2019 / by Vanessa Saunders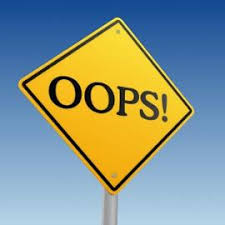 "If anything can go wrong, it will." That's Murphy's Law, a pithy little pessimist's truism that can be applied to everything from walking a dog to racing submarines. It certainly applies to a real estate transaction, which has many moving parts just begging a spanner be thrown into it. Here are a few occasions in which I've had Mr. Murphy's law involved:
The appliance that's never had a problem will break down during final walk-through. Also a regularly recurring final walk-through breakdown: the automatic garage doors suddenly don't work. (Here's a hint: the movers disconnected them for easier access while loading up the former owner's stuff. Re-connect the overhead arm.)
The buyer who fights the hardest to win a bidding war will be the one to get "Buyer's Remorse."

Cracks in the basement wall which the seller swears are cosmetic will turn out to pose "significant danger to the foundation," such that the buyer will run, not walk, away from the sale.
The "Effloresecence" in the basement turns out to be black mold.
Turns out that "Grandfathered" means nothing to most town's building inspectors. Whatever it is, fix it. Get a Certificate of Occupancy certificate, and all's good. Without one, you'll most likely kill, or significantly delay a deal.
When a seller fills out the Exclusions List of everything not staying with the house, they will later decide the drapes (which were not excluded) are now a deal breaker.
When you get an "All Cash Offer" at a price that won't appraise, which your seller accepts over other well qualified offers, it will most likely kill the deal.
The buyer who least qualifies for financing based on debt-to-income will decide to buy a new car on credit the week before closing.
And my all-time favorite:
The odds of getting an offer on a listing will double if the listing agent goes out of town. It will increase exponentially if the listing agent has left the country.
Got something to add to our list of Murphy's Laws? Contact us at connect@gpshousehunt.com.
---