Friday, May 22, 2020 / by Vanessa Saunders

The Memorial Day holiday was originally established in 1868 at Arlington National Cemetery in Washington DC. The holiday was originated to commemorate Civil War veterans living and dead after the War Between the States. Scholars estimate more than 700,000 Americans died in the conflict. When the wounded, sick, the lost, the captured the missing and the never found were added, the toll in human casualties amounted to over 1.5 million in that conflict.
Today, Memorial Day is held to commemorate the sacrifice of American soldiers in all the conflicts they participated in world wide. This day is for them.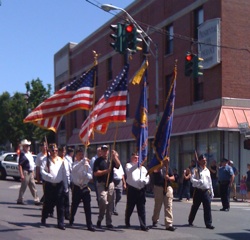 Memorial Day weekend commemorations in Rockland County are as follows.
-- SATURDAY --
NYACK: American Legion Post No. 310, VFW Post 9215 and volunteers place flags on the graves of veterans at 9 a.m. at Oak Hill Cemetery.
CONGERS: The Veterans Memorial Association of Congers Inc. sponsors the Congers Memorial Day parade. Parade starts at 10:30 a.m. at the Congers/Valley Cottage Volunteer Ambulance Corps. building and proceeds down Kings Highway to the VMA Building on Lake Road. A Memorial Service follows at the VMA Building.
-- SUNDAY --
NEW HEMPSTEAD: Rockland County Veterans' Coordinating Council holds two Memorial Day ceremonies: Noon at the Frederick Loecher Veterans' Cemetery on Brick Church Road; 1 p.m. at Gary Onderdunk Veterans' Cemetery on the Rockland County Community College campus.
-- MONDAY --
ROCKLAND: Memorial Day watchfires for the troops who didn't come back from war will be lit at 12:01 a.m. and burn for 24 hours at four locations in Rockland. Locations include: Bowline Point Park in Haverstraw; Eugene Levy Memorial Park on Route 45 in Ramapo; east end of the Piermont Pier; and Clausland Mountain Park in Orangeburg. The watchfires are sponsored by the Vietnam Veterans of America.
HAVERSTRAW: The following Memorial Day ceremonies will be held throughout Haverstraw and Garnerville. Haverstraw Town Hall, One Rosman Road at 9 a.m.; Calico Hill Veteran's Memorial, Railroad Avenue, Garnerville at 9:20 a.m.; Civil War Monument, Hudson Avenue, Haverstraw at 9:45 a.m.; World War II Monument, Clove Avenue, Haverstraw at 10:15 a.m.; World War I Monument, Mount Repose Cemetery at 11 a.m.
HILLBURN: Memorial Day parade and service. The parade starts at 9 a.m. at the Ramapo Central School District Administration and proceeds through the Village to the World War I Monument (corner of Lake Avenue and Fourth Street) for a ceremony.
NANUET: The Naurashank Post No. 794 of the American Legion holds Memorial Day services at 11 a.m. at the Nanuet Veterans Monument, on Prospect Street across from the Nanuet Post Office. Parking is available in the commuter parking areas. Services held rain or shine.
NEW CITY: Memorial Day Parade starts at 10 a.m., Main Street from Collyer to the County Courthouse.
NYACK: VFW Post No. 9215 holds a Memorial Day service at 9 a.m. at Soldiers & Sailors Monument, Oak Hill Cemetery. Parade follows at 11 a.m. Line up for parade at 10:30 a.m. behind former Riverspace Arts Center. Memorial Service at 11:30 a.m. at Memorial Park Monument.
PEARL RIVER: Parade starts at 10 a.m. and proceeds down Central Avenue ending with ceremonies at Braunsdorf Park.
SLOATSBURG: The Village of Sloatsburg in cooperation with the Sloatsburg American Legion Post 1643 hold a Memorial Day program and parade starting at 10 a.m. at the Veterans Memorial Park, adjacent to the Sloatsburg Municipal Building. After the ceremony at the Veterans Memorial Park, parade proceeds to the World War I Monument and concludes at the Sloatsburg Cemetery. Refreshments follow at the Sloatsburg Community Fields Pavilion.
SPRING VALLEY: American Legion. Post 199 of Spring Valley, in conjunction with the Village of Spring Valley, will be honoring our citizens that served our nation and did not return from the wars. The service will be on Memorial Day, Monday, May 30 at 10am. We ask that our citizens come out and take time to reflect on the sacrifices that others have made so that they can enjoy their freedom. Freedom is not free it was paid for by someone who answered the call to defend that freedom.
STONY PONT: Town of Stony Point hosts annual Memorial Day Parade at 9:30 a.m. on the corner of Jay Street and TenEyeck Street. Veterans service at 8:30 a.m. at the Mt. Rest Cemetery on West Main Street. A Memorial service follows at 10:30 a.m. at Stony Point Town Hall, 74 E. Main St.
STONY POINT: Memorial Day Commemoration. A commemoration of fallen soldiers from all wars with a presentation in the 18th century military fashion will be held at 2:45 p.m. An artillery demonstration follows at 3 p.m. 44 Battlefield Rod. 845-786-2521, www.palisadesparksconservancy.org
SUFFERN: The village and the Fromm-Maxwell-DeBaum American Legion Post No. 859 will hold a parade. Parade steps off at 11 a.m. from Lot A at Orange and Lafayette avenues to the Soldiers Monument at Washington Avenue for a ceremony. In the event of rain, the ceremony will be held in Village Hall.
TAPPAN: Carl Schelin American Legion Post 1271 in Tappan hosts a Memorial Day Parade that starts at 11 a.m. from The Masonic Home on Western Hwy and concludes at The Tappan Memorial Circle -Across the Street from The Tappan Reformed Church. A ceremony follows. After benediction and speeches refreshments will be served at The Tappan Fire Dept. Services held rain or shine.
WEST NYACK: Memorial Day Parade starts at 11 a.m., Strawtown Road, from the Clarkstown Reformed Church to the West Nyack Hamlet Green. Hosted by the West Nyack/Nanuet Rotary.
Our thanks to the Rockland County Legislative offices for compiling this list.
---