Friday, August 21, 2020 / by Vanessa Saunders
By Vanessa Saunders, MBA, MIMC , Broker Owner, Global Property Systems Real Estate.
They say that wherever you are when you visit Manhattan, you are never more than twenty feet from a rat. Where we live in Rockland County, that could almost be said of bears. This spring and summer has been unusually active for Black Bears around our property, which backs up to Harriman State Park.
One surprising fact about Black Bears is their ability to climb trees. Our two dogs have regularly barked up a tree in the neighboring woods with a bear perched on branches thirty feet up. Hikers and other park visitors don't realize how often they come within sniffing distance of wild Black Bears because they seldom look to the trees. The animals can be hard to spot, as Black Bears blend into the shady leaves and branches and seldom move.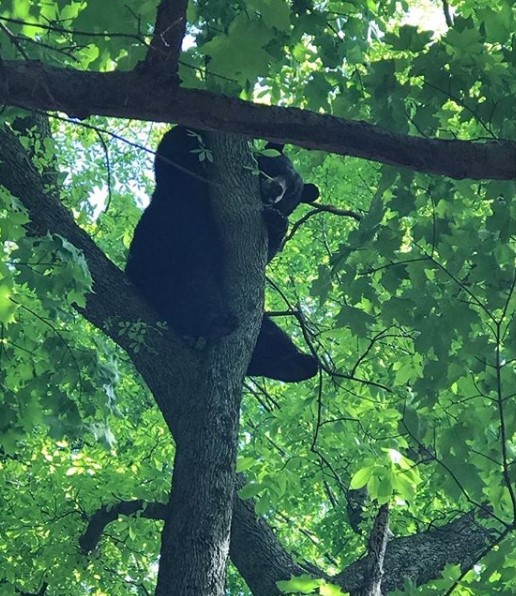 Normally in June, black bear movement increases as the breeding season begins and yearling (one-year-old) bears disperse to find their own space. Inevitably some of these bears, particularly yearlings, wander through places these animals would not normally go, like suburban or urban neighborhoods. Bears have an acute sense of smell and may attempt to consume anything they perceive as edible, including improperly stored garbage, birdseed, livestock, pet food, and barbecue grill grease traps. Once a bear has discovered a food source, it may return or seek similar foods at neighboring properties, learning bad behavior that can damage human property and may lead to the death of the bear.
Recently in Harriman Park, a female Black Bear named Cookie has developed a keen appreciation for human food and its ease of availability. Recently, Cookie was reported wandering into campsites and rummaging through several tents near the park's Fingerboard Shelter. She also reportedly took food from a family with children cooking breakfast.
Efforts to discourage Cookie from human contact haven't been successful. The Department of Environmental Conservation and state Parks Department said in a joint statement, "Previous attempts at 'hazing' the bear with loud noises and rubber buckshot, and trapping and tranquilizing the bear to mark it for future identification have failed to dissuade its behavior. This presents a risk to the safety of campers and hikers as the bear has learned to associate humans with food."
To meet their dual goals of protecting humans from the bears and bears from the humans, The DEC and state Parks Department said they have stepped up their education and park-modification efforts. These include:
•Installing a sign and a cable at the Fingerboard Shelter for campers to hang food beyond the reach of bears.
•Making campers at the Beaver Pond campground to store food in their cars or bear-resistant containers.
•Placing bear-resistant dumpsters in problem areas of the park. Seventeen dumpsters were purchased last fall, and the park is modifying two existing dumpsters to make them more bear resistant.
The goal is to provide a safe environment for people who visit the park, and for the bears and other animals that live in it. For information about what you need to do to protect yourself and your family from bears in the Hudson Valley, CLICK HERE.
---