Thursday, January 18, 2018 / by Vanessa Saunders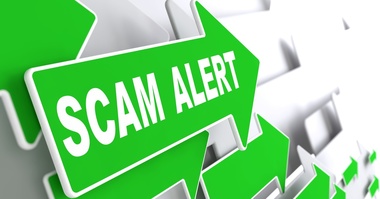 What's that old saying, "There's nothing new under the sun." It applies to cyber-crime as well. I was reading an article about some "new" scams being perpetrated on renters, but based on experience, they're just old scams using Internet and digital technology to put a new spin on things.
Rental scams have been around for as long as people looked to strangers for a place to live. Internet ad boards, listing portals and vacation sites which make it easier for people to find a rental also make it easier for scam artists to ply their twisted trade. Here are a few:
The Out-Of-Town Landlord
This one happened to someone looking at one of our listings a few years ago. A woman we had never met before called our office asking for the key to the two-bedroom home she had just rented. But the house wasn't rented. She had responded to a fake ad for a real rental placed by the con-man on Craig's List. He told her he lived in the Caribbean and couldn't meet her but he owned the property for rent. He convinced her to send him the deposit and first month's rent, telling her she could view the house only from the outside. She swallowed the story, telling us, "He's a church minister, such a lovely man."
She didn't get the key. Or her money back.
The Bargain Rental
Hackers are adapting real Internet ads for rentals and re-circulating them elsewhere, with a rate far below market price. What they want is your contact and personal information, creating opportunities for other scams like wire fraud.
Identity Theft
If you have done online searches for rentals, you probably have had to complete some kind of digital application form. In a scam, the form, which is written by the criminals, may casually ask for personal information including bank and credit info, or personal ID info. All it takes is for a crook to have your name plus your social security, bank account or drivers license number and they can open a credit card account in minutes online.
What to do?
Don't be in a hurry to apply online. Take a tour of the rental with a friend, or better yet, with your REALTOR! to make sure things are on the up and up.


Be suspicious of costs that are too low, or even too high. Do some research and know the value of rentals in the areas you're interested in. It's smart to have that information anyway, to avoid non-digital rip-offs as well.


Meet your landlord in person. Be suspicious of any excuse not to meet face-to-face. "I'm out of town/ in the military/ connecting you with my attorney" are all typical dodges.


Don't pay up front. If the person renting out the property asks for any money prior to you viewing the property or signing a rental agreement, don't walk - RUN! Tip-offs are excessively high deposits, or the use of any kind of pre-paid card (some we've heard of have even demanded I-Tunes gift cards, believe it or not), and wire transfers like Western Union.
Whatever the scam, crooks will use any media they can to separate a mark from his money. Be a careful renter and protect yourself from rental scams. If you find one, do not hesitate to contact the Federal Trade Commission, (FTC), at
www.ftccomplaintsassistant.gov
.
For more information or questions about this article, contact Vanessa Saunders, CEO and Principle Broker, Global Property Systems Real Estate. vanessa@gpshousehunt.com. 845-480-4355.
---