Thursday, June 14, 2018 / by Vanessa Saunders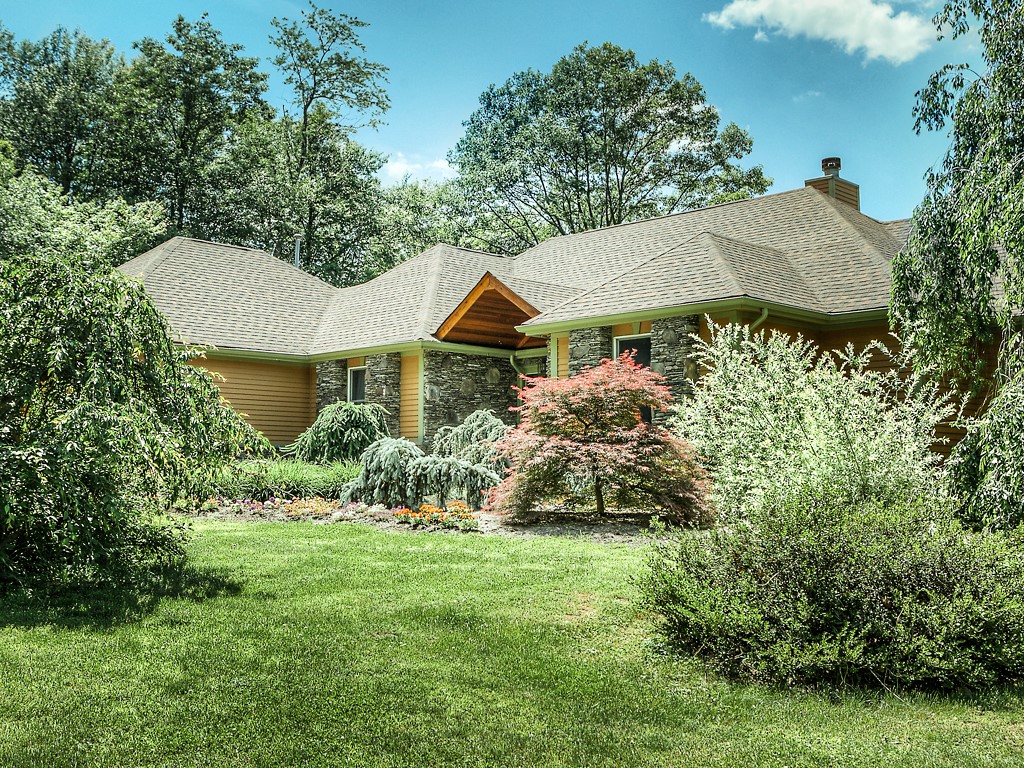 This property has been lovingly re-imagined to take advantage of its spectacular views in its setting overlooking the Warwick Valley. You are never far from breathtaking vistas, a forest of green and the sounds of birds and a babbling brook. A large open-air exterior living room off the kitchen allows access to the beauty of surrounding nature, and serves as a convenient place to barbecue or entertain during warm weather months. Nestled nearby is a Koi pond which can also be used for swimming. The sounds of its two waterfalls add a soothing sense to the space. A split stone and wood exterior gives the house a natural feel, which is continued on the interior.
The beauty of nature is everywhere. Walls of windows lead to the wrap around deck from the master suite, living room and eat in-kitchen. The living room has four large glass windows, two of which are doors opening onto the porch. In the kitchen, diners can still take in the scenery as the chef cooks on a Dacor 6-burner gourmet range and high-end stainless steel appliances throughout.
The main floor master suite has a magnificent full bath, and of course, views through large windows, as well as through the glass surrounds on the granite walk-in shower. But don't worry about privacy. Only the birds and squirrels will be looking back.
On the lower level a comfortable family room features a full cherry wood bar and a large seating area for guest and family to relax and recreate. The two guest bedrooms on the lower level have more spectacular views, as well as a convenient full-bath.
Anyone looking for soaring scenery and a beautifully crafted home should see this spectacular property. Click to view our
Listing Website
, or to see it in person, contact Global Property Systems at 845-848-2218.
Afterwards, maybe we can chat over ice cream at the nearby Bellvale Farms Creamery just down the road!
---