Thursday, March 29, 2018 / by Vanessa Saunders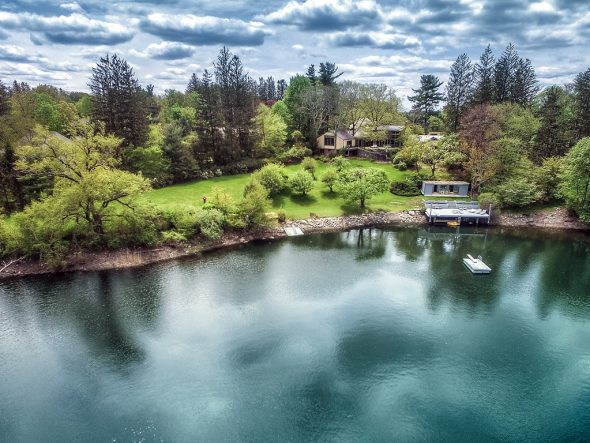 Discover this exquisite home on 17 private acres including a private lake with dive platform and large dock, yet with easy car, train or bus access to anywhere in New York City in minutes. Living here is like owning a large private corner of a luxury resort. Enjoying these 14 lush acres ensures that all indoor and outdoor activity and entertainment can be had without any interruption or disturbance from neighbors or traffic. The view from the house and terrace over the property's park-like setting rolls out in stages, across the terrace under the gigantic sycamore trees, down the stone steps and out onto the lush green lawn that slopes to the crystal blue water. It's a secluded panoramic paradise
The home itself exudes charm with a mid-century vibe. There's nothing ordinary or expected to be found within these walls. It is ideal for entertaining, and full of surprises. It features five bedrooms and seven baths (five full and two half baths). It has a spacious three car garage and is on 14 landscaped and wooded acres.

The great room is the focal point of the home, with its massive fireplace, framed in a barreled ceiling above and walls of windows around. It is bright, airy and has a view which never disappoints. A games room with features a full bar in Art Deco details. Special features abound, including a spiral staircase, secret rooms, and a romantic, very private master suite with a bathroom to simply die for. There are accomodations for staff or additional guests, a recently added totally new and fabulous kitchen with all the bells and whistles, and a breakfast bar, where a couple can start their day. A family can relax in the sunny nook overlooking the courtyard, where caterers can easily prepare for a party of hundreds.
Armonk, a hamlet in the town of North Castle, is in the northeastern sector of Westchester county and is bordered by Connecticut to its east. It is approximately 35 miles from midtown Manhattan. Known for its wooded beauty and sparkling lakes, this hamlet has a friendly village center with gourmet shops and excellent restaurants. There are year around things to enjoy in the area that rival rural upstate New York. Fruit picking and pie making in spring and summertime, sledding and ice skating during winter, and reveling in the beauty of the fall colors are at your doorstep.
Click here for a complete
Virtual Tour.
---