Wednesday, March 4, 2015 / by Vanessa Saunders
At the risk of sounding like "Hints from Heloise," the newspaper column which gives helpful tips to solve all kinds of domestic disasters, I really should address one thing that can adversely affect selling a house.
Smells.
Odors, bad or good, can have an effect on how buyers respond when viewing a home. We've all heard that old ploy of baking cookies just before an open house or a showing, to fill the air with that aroma of homey goodness. (I've also seen it backfire when potential buyers want to know "what's that cookie smell covering up.") Likewise candles - lit by good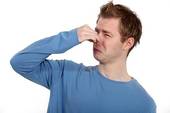 intentioned home sellers, they often cast a smelly cloud over a showing. (That and unattended candles are a fire hazard.) Good or bad, strong odors can be a problem. So here are some helpful hints... no, make that tips, on ways to combat odors in the home.
A Gross Garbage Can
Obviously, the first solution in most of these cases is to get rid of the source of the smell, (take out the trash) and then clean up the container to eliminate any residue. But to avoid similar garbage smell problems in the future, here are a few bright ideas:
Put a little scented cat litter in the bottom of the can. Scientists spent years developing litter that absorbs smells. Why should your cat be the only beneficiary? Got lemons? Or orange peels? Toss a few into the bottom of the can before putting in a new liner. Coffee grounds (unused of course) are also excellent at absorbing smells. Off the subject, this is why it's necessary to store coffee in an air-tight container - open coffee containers let in air, and if the air contains any odors, their next stop will be in your morning cup!
A Rank Refrigerator
Same initial advice. Clean it thoroughly. I suggest a mixture of warm water and baking soda, then wipe it with vinegar and warm water. In the future, I suggest:
Good old Arm and Hammer baking soda has been used for years to absorb 'fridge and freezer odor. Open a box and keep in inside the fridge on a back shelf. Again, coffee grounds are another good smell absorber, although a bit more expensive than baking soda. For a little more fragrant solution, try soaking a cotton ball in vanilla extract. When it dries and stops smelling like a French bakery in there, replace it.
Funky Furniture
Old or wooden drawers often contract that stale, damp smell one often finds in antique stores. Fight it with the following:
Put wadded up newspaper sprinkled with vinegar in a corner of the drawer for a few days. Or try those dryer sheets you use to soften and scent your laundry wash. They can make drawers smell better too. Just put a couple in each drawer for a few days. Silica jell packs used to prevent moisture in packaging work well to remove odors also. You can buy them, or just save them from products that come with silica gel packs.
A Stink in the Sink
Sinks and garbage disposals often harbor detrius that decomposes under our noses. Try dropping a cut-up lemon followed by a few ice cubes and salt into the garbage disposal and run them through. The lemon smells nice, and the salt and ice knock off debris and wash it down.
A Dank Dishwasher or Washing Machine
Detergent residue and hardened mineral scale are the culprits here. Give your machine a thorough wiping down with paper towels, then pour a couple cups of white vinegar directly into the machine (not the soap dispenser). Run the machine on a hot water cycle, pausing if possible for about 20 minutes to allow the water/vinegar solution to dissolve the scale. Re-start and let the cycle finish.
Commercially developed dishwasher cleaners also work well, and are available in the dish soap aisle of most large grocery stores.
Having an odor free home is a must for showings and open houses. It's not hard to do, and it generates results. As I always say, "It'll sell if it doesn't smell."