Monday, December 9, 2019 / by Vanessa Saunders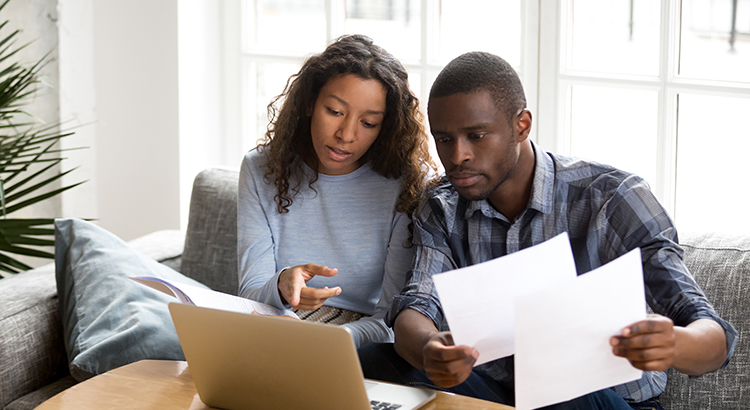 Debt-to-income (DTI) ratios are one tool used by lenders to determine the credit worthiness of mortgage borrowers. It isn't the same as a credit utilization number, which represents the amount of debt borrowers have relative to their credit card and line of credit limits. Lenders will also use a debt to income ratio to determine how much home buyers can afford to borrow, and how much they can reasonably afford in monthly payments.
Figuring your DTI is a simple bit of arithmetic after working out your total monthly debt and total monthly income. It is simply monthly debt divided by monthly income equals DTI, which for most buyers will be a number less than one.
Total Your Monthly Debt
The first step in calculating your debt-to-income ratio is determining how much you spend each month on debt.
To start, add up the total amount of your monthly debt payments, including:
Current mortgage or rent
Minimum credit card payments
Car loan
Student loans
Alimony/child support payments
Other loans or lines of credit

Total Your Monthly Income
The next step to determining your debt-to-income ratio is calculating your monthly income. Start by totaling how much you can count on earning each month. Add up the amount you receive from:
Gross income from a W-2 job or self-employment
Bonuses or overtime
Alimony/child support
Other income from various sources
Unreliable sources are not considered, such as gambling winnings or commission-only jobs, neither of which can guarantee a regular monthly income.
What Your Debt to Income Ratio Means
Your final result will fall into one of these categories.
36% or less is considered a healthy debt load for the majority of people. If your debt-to-income ratio is in this range, don't incur more debt if you expect to maintain a good ratio. You may have trouble getting approved for a mortgage with a ratio above this amount.
37% to 42% isn't a bad, but it could be better. If your ratio falls in this range, you should start? reducing your debts, if possible paying off credit cards and other forms of debt.
43% to 49% is a ratio that indicates likely financial trouble. You should start aggressively paying your debts to prevent an overloaded debt situation.
50% or more is an extremely dangerous ratio. This means that more than half of your income goes toward debt payments each month. You should be aggressively paying off your debts. Don't hesitate to seek professional help.
This is why lenders urge borrowers not to incur more debt between the time the buyer secures the loan and the purchase date. DTI is part of the formula for determining a mortgage amount, interest rate and monthly payment, and buying that new Tesla you've always wanted could cause a lender to adjust or cancel the loan commitment.
For more information about qualifying for a mortgage, contact Barry Goldenberg, 516-398-9511 - email: bgoldenberg@luxurymortgage.com.
---