Monday, April 16, 2018 / by Vanessa Saunders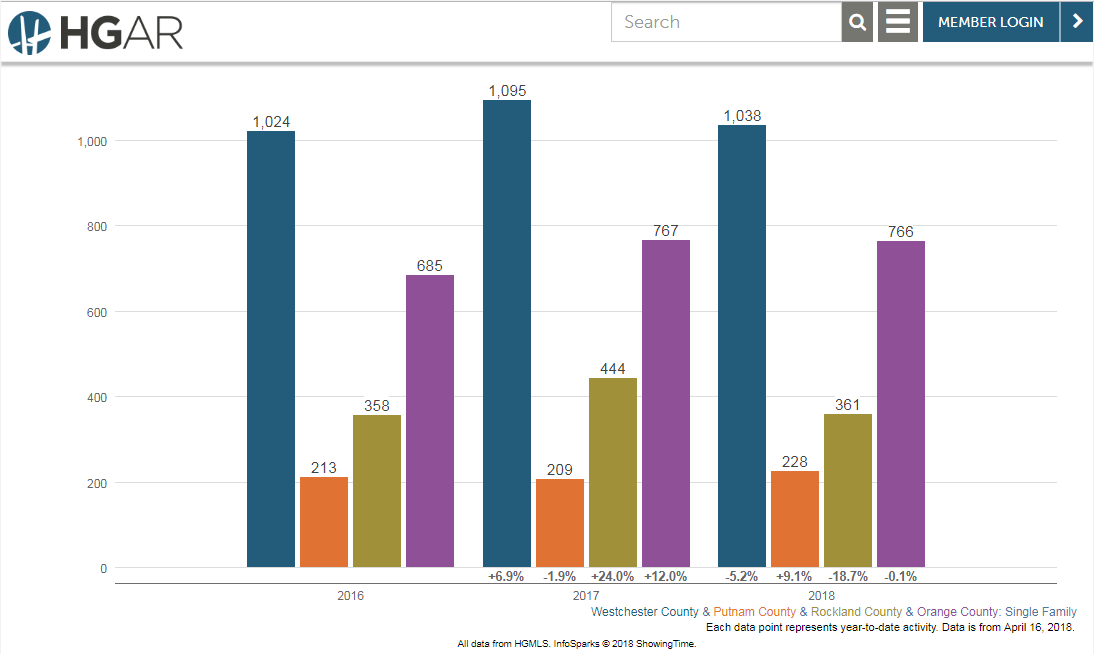 The Hudson Valley real estate sales numbers for first quarter 2018 are out and it looks like housing sales were as dismal as the spring weather. According to the
Hudson Gateway Multiple Listing Service (HGAR)
, mid-hudson counties (Westchester, Rockland, Orange and Putnam counties) sales figures declined in the four county region, with Rockland County leading the way with a shocking 18.7% drop over last year. Westchester and Orange managed single digit losses at 5.2% and .1% respectively, and only Putnam coming in above last year with a 9.2% gain.
Rockland County's low sales can clearly be attributed to a low inventory of homes on the market, as prices rose a significant 6% on average. Average prices for the year are now up over 4% for single family homes and 1% for condos. If prices continue to rise, look for more sellers being tempted into the marketplace for the spring season.
Other contributing factors also came in to play in the first quarter results. According to HGAR, fourth quarter concerns over the then-inconclusive consequences of the new tax bill on real estate may have crippled deals on housing sales that would have closed in the early months of the next year. HGAR also suggested, "another black cloud" hanging over real estate deals was the then increasingly volatile stock market.
Global Property Systems says:
This is what a seller's market looks like, with inventory continuing to be low, driving prices up. Expect a spring market to show even lower levels of inventory, and a robust price appreciation which will not level out until mid- or early summer.
---