Friday, February 8, 2019 / by Vanessa Saunders

We've read a lot of headlines lately pointing out that homes are less affordable than they have been in the last ten years. We're not going to sugar coat it. Those headlines are real in many parts of the country.
BUT!. And it's a big "but", one that takes a little look at history to understand.
The fact of the matter is, some Hudson Valley home prices ARE less affordable than in the last ten years, but take a look at what was happening in the last decade. 2008 was the start of one of the worst housing crashes in American real estate history. Distressed properties (foreclosures and short sales) were flooding the market. Homes could be bought at discounts up to 50% off their pre-crash values. Low prices on distressed inventory knocked down prices on housing as a whole. The Fed kept interest rates low to help the economy. It was a buyer's dream.
That dream is over, fortunately. Prices have since recovered. Mortgage rates have increased as the economy has gained strength. This has raised housing prices accordingly.
Two weeks ago, CoreLogic reported on what is called the "typical mortgage payment". As they explain:
"One way to measure the impact of inflation, mortgage rates and home prices on affordability over time is to use what we call the 'typical mortgage payment.' It's a mortgage-rate-adjusted monthly payment based on each month's U.S. median home sale price. It is calculated using Freddie Mac's average rate on a 30-year fixed-rate mortgage with a 20 percent down payment…
The typical mortgage payment is a good proxy for affordability because it shows the monthly amount that a borrower would have to qualify for to get a mortgage to buy the median-priced U.S. home…
When adjusted for inflation, the typical mortgage payment puts homebuyers' current costs in the proper historical context."
Here is a graph showing the results of CoreLogic's research: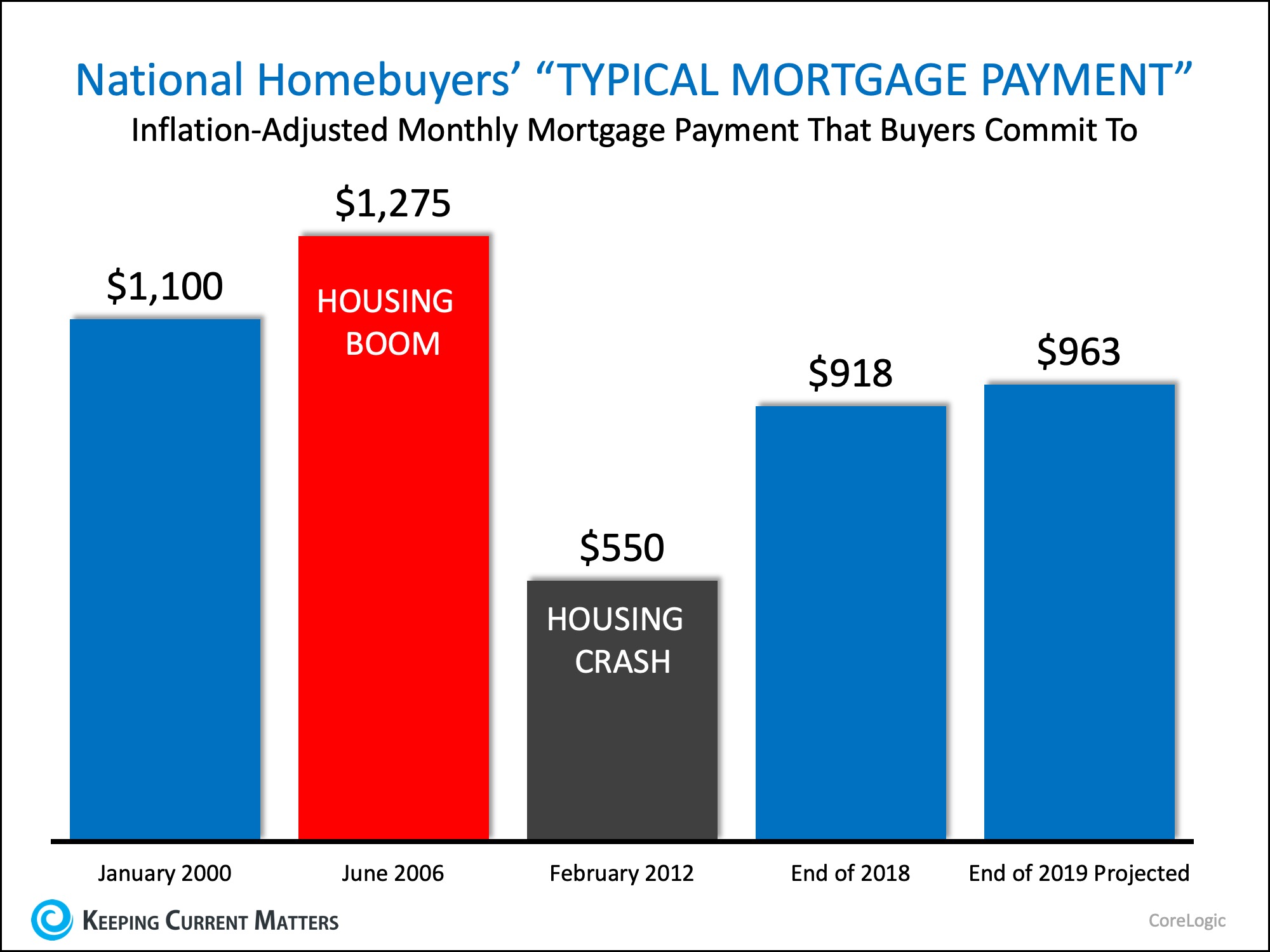 As the graph indicates, the most recent calculation remained 28% below the all-time peak of $1,275 in June 2006. That's because the average mortgage rate at that time was 6.68%. As seen in the graph, both today's typical payment and CoreLogic's projection for the end of the year are less than it was in January 2000.
Global Property Systems says:
Home prices are slowly appreciating, and homes will likely continue to be less and less affordable. People interested in buying a home can still find homes less expensive than before 2008. The smart money can still get into the market now, for the rest of the ride up.
---