Tuesday, June 6, 2017 / by Vanessa Saunders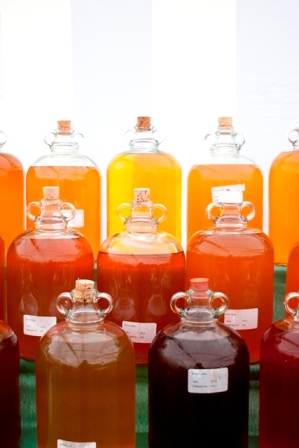 A great thing about living in the Hudson Valley is that there are always interesting activities to attend, not just in NYC but Upstate as well. The events and activities in the north-of-the-city counties may be a little bit rural, but are often on the cutting edge of todays popular trends. Local-vore gourmet dining, organic farm production and micro-brew breweries and distilleries come to mind. Turns out they have a handle on hard cider making as well, and a week of events to celebrate!
Hard cider is a fermented version of apple juice with an alcohol content similar to beer. It's popularity has been growing exponentially in recent years. Once just a British anomaly in the UK's pub scene, hard cider is now found in America wherever beer is sold, in a wide variety of styles and names. So what better place to celebrate cider than in the Hudson Valley, home to many hundreds of orchards and a remarkably large contingent of cider makers.
Starting Friday, June 9, Hudson Valley cider producers will offer their products to the public in venues throughout the region. Hardscrabble Cider kicks off the week with a Friday night free tasting at the Clock Tower Grill in Brewster from 6 to 10 pm. Tastings are also scheduled on Friday at the Cold Spring General Store in Cold Spring and at 6 Degrees of Separation in Spirits and a tasting and food pairing will be held at Boutique Wines, Spirits and Cider in Beacon. (For a full schedule, click on the link below.)
Tastings are held daily throughout the week at ciderys, orchards, liquor stores and restaurants, but there are many other events planned. The public can take cider classes at the Green Growler in Croton-on-Hudson on Wednesday, June 14 from 8-10 pm. Twin Star Orchards is wrapping up Cider Week with a pig roast from noon to 5 on Sunday, June 18th in New Paltz.
Destination Ciders.
A special event going on throughout the week at many locations is a chance to sample some very unique ciders from the Hudson Valley. Twenty ciderys trot out their special juices, which they say are really worth going out of your way for. Hence the name "Destination Ciders." For example, visitors can taste a 2015 cider comprised of several hundred "no-name" wild apple varieties growing outside of cultivation from every corner of Sullivan County, produced by the Aaron Burr Cidery at the Westwind Orchard near Accord, NY. Bad Seed Cidery has a rum-barrel-aged cider served in their tasting room near Poughkeepsie. The Brooklyn Cider House in New Paltz offers up "Raw" which they describe as "our most challenging and unforgiving cider." They go on to say, " If you're afraid to get a little funky, you should stay away. We let the natural yeasts do their thing and whatever happens, happens. This is our homage to Basque Country sidras which inspired the BCH mission to explore ciders in their most natural state. Crisp. Earthy. Tannic. Sour."
Yikes!
So have a little fun and get to know your Hudson Valley cider makers! For a full schedule of events, times and places, visit the Cider Week website.
---