Monday, April 27, 2015 / by Vanessa Saunders
Starting this month, when you buy a hot water heater, you're going to run into new federal energy efficiency rules if your unit is bigger than 55 gallons. One result of those rules may be new lines of highly efficient units. For example, consider hybrid water heaters, which use electric heat pump and gas condensing technology and can cut your water heater-related energy bills.
Heat pump water heaters save at least 50 percent and condensing gas units about 25 percent compared to today's conventional water heaters, according to the American Council for an Energy-Efficient Economy.
Not ready to upgrade your water heater yet? Get tips on saving water heating costs from the U.S. Energy Department.
"Heat pump water heaters (also known as hybrid water heaters) transfer heat from the surrounding air to the water,"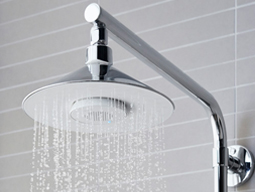 ACEEE explains. "When hot water demand is very high or the ambient air temperature drops below a threshold level, the hybrids switch from heat pump mode to electric resistance mode.
"While the upfront cost to purchase and install these products is higher, consumers will recoup the added cost in about six years on average through lower electricity bills. Consumer Reports tested heat pump water heaters and found that 'Those we tested provided annual savings of about 60 percent over electric-only models.'"
The more efficient water heaters can be an inch or two wider and/or higher, which can be a problem if your water heater is in a tight location and there's no room to expand. If that's the case at your house, ACEEE recommends shopping around since sizes vary among manufacturers.