Tuesday, September 25, 2018 / by Vanessa Saunders
Recently I was with a group of REALTORS® attending an international real estate conference in Manhattan. We were invited to tour a 5,000 square foot apartment, to see what $30 million gets you in the Big Apple. I was trying to be quite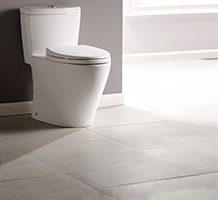 nonchalant about the amenities: spectacular 180 degree views from the 43rd floor ("Yawn"), enormous master suites ("Umm hmm"), kitchen that may as well have been designed by NASA and decorated by Tiffany ("Doesn't everyone have a diamond studded thermo-nuclear coffee maker dahling?") when I saw something that took my breath away.
It was the toilet. And not just any loo. I found out later it was the The Neorest 750H with Actilight technology, a truly revolutionary innovation at the peak of lavatory luxury, which retails for over $10,000.
As they say in the UK, I was gob-smacked.
The control panel for this Necessity for the Very Posh was mounted on the wall beside the "loo." Among many other features, (heated seat, auto-open and close, and inexplicably, a remote control, to name a few) it also allows its owner to "clean up" automatically, without all of the paperwork associated with the toilets of mere mortals. This is not to be confused with the mundane European bidet of years past. In the 21st century, the rich have choices: Front, Rear, Oscillating, Soft Oscillating, even Pulsating. And when you're all tidy, it has a drying cycle. It is as if the operator will never again have to touch their tooshie.
So this is how the mega-wealthy go? Now we know.
I wonder what they do when the power goes out?
---