Friday, August 19, 2016 / by Vanessa Saunders
Home office design trends continue to grow and develop as the work-at-home trends themselves change. Home offices are no longer the exclusive domain of traveling salespeople or working-round-the-clock executives. Personalized setups for home productivity zones can vary from a laptop on an upcycled occasional table with a vintage overstuffed chair to an elaborately devised schematic with multifunctioning components for storage and display spaces.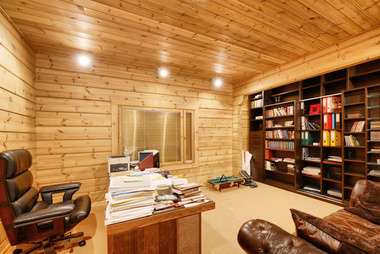 What is right for your situation? Consider some of the ideas below.

Personalizing Productivity

Before adopting any of the latest buzzwords of design like "shedquarters" or "homework bars," we advise that you set the overall intention for the workspace. Will it be a dedicated industrial section of the home or will it have multiple uses?

Once the definition of the quarters takes shape, you can structure the appointments accordingly.

For digital natives, physical storage might not be a requirement thanks to scanning and cloud space. Those who deal in tangible products might want product organizers or a visible timeline of current or past offerings.

In those instances where the room works before and after the sun sets, furniture might need to perform as functional as well as welcoming.

Clearing the Decks

Renovating is the ideal excuse to make a decision on everything in the current configuration. Do you need those seven empty bookshelves? Is it time to replace the chair with only three wheels? Act with the goal of minimizing for the present in mind, as clutter is the antithesis of performance.

Space is a valuable commodity; make sure your furnishings are contributing and not simply collecting dust. Look around and see how you can increase productivity by improving functionality. A highly operational space will naturally lead to a better-flowing working environment.

Revamping With Purpose

Now that the slate is clean and the objective is clear, it's time to begin determining the "what and where" for your home office. One trend in domestic commerce that translates regardless of personal taste is the modular component.

Contemporary furniture designers are moving away from built-ins and whittling their way toward utility-plus-versatility construction. Home office occupants can assemble shelving, desk space and cabinets that all fit together in one command center or disengage to fulfill an on-demand project.

Multitasking With Fixtures

Electronics are shrinking thanks to efficiencies in technology, but their sphere of influence is expanding. Now you can have a computer monitor double as a television, rule your empire from a laptop and cut all cords (literally going wireless) when printing out professional materials.

Arranging the decor of your new home office can follow suit in efficiency as mobility is as useful as a charging station. Give some thought to your situation.