Thursday, July 18, 2019 / by Vanessa Saunders
A report issued on July 16 from the National Association of REALTORS® (NAR) shows that the number of foreign buyers of U.S. real estate has cooled slightly since last year. The report cites slower overall economic growth, a tighter flow of capital, a stronger U.S. dollar, and a shortage of property to buy have all impacted sales to foreign buyers.
Foreign investment in U.S. residential real estate was down 36% from last year, coming in at $78 billion A slowdown in global growth and tighter controls by China on the outward flow of capital also likely accounted for the drop in investment.
Global Economic Growth Tapers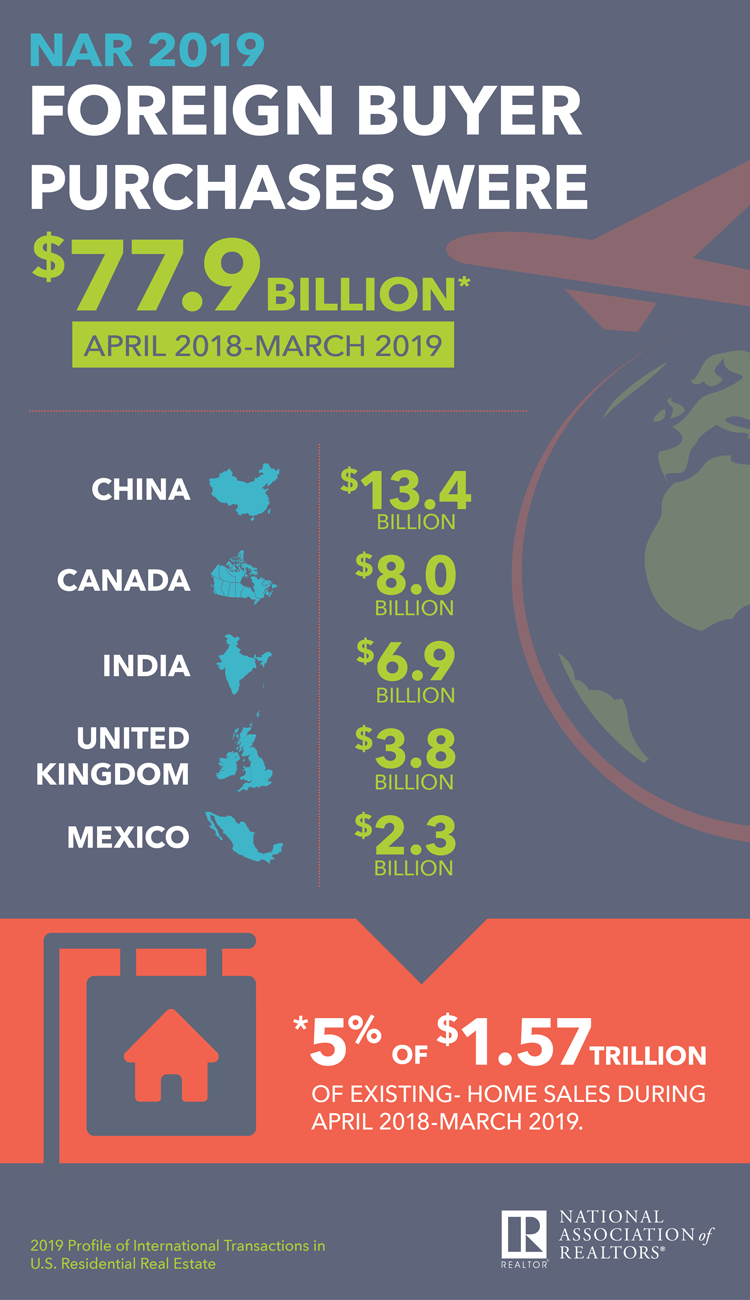 After global economic growth peaked in 2016–2017, it slowed to 3.6 percent in 2018 and is expected to lose another 3.3 percent in 2019.
The Chinese are still the most prominent buyers, leading all all other countries in purchases of U.S. residential real estate since 2013. But China's growth has been reigned in by new and tighter regulations by Chinese authorities on commercial bank lending to avoid financial system-wide risks. Not helping matters are President Trump's higher U.S. tariffs on Chinese exports which appear to be pulling back growth. According to the NAR report, "These factors likely impacted foreign investment in U.S. residential real estate by Chinese buyers during the 12-month period."
Putting a more positive spin on the story, NAR President John Smaby said of the report, "Even though numbers were lower this year than the previous 12-months, international investors and buyers still spent and invested a great deal
of money in U.S. real estate." Smaby is a second-generation Realtor® from Edina, Minnesota and broker at Edina Realty. "Home buyers from across the globe know that the U.S. market is still a safe, secure and promising place to invest."
The foreign buyer activity is reported in NAR's newly released Profile of International Transactions in U.S. Residential Real Estate report, covering transactions during the 12-month period of April 2018–March 2019.
---