Friday, May 24, 2019 / by Vanessa Saunders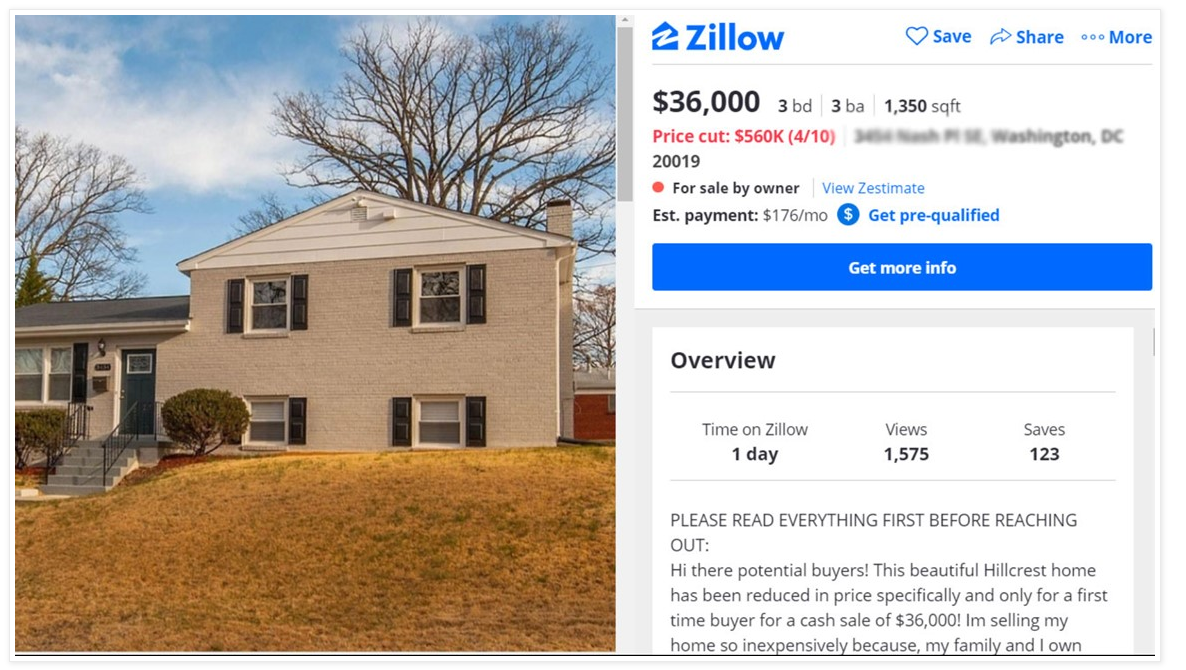 Who wouldn't snap up this apparent bargain, if it weren't for the fact that by now, most people know that such "bargains" are almost always scams. This one appearing on Zillow last month was. But according to Zillow, over 1,500 people clicked on the website, and 123 people saved it in its first day online.
This is an old scam, which Zillow and Trulia are actually getting better at sorting out lately. They missed this one. The "Sellers" claim to be a property management company and specify that the property is available for first-time buyers only: "no lenders, no investors, no wholesalers, no attorneys and no one that has ever owned a property." According to the Zillow listing, the sellers "own many homes across the country, and once a year they "sell one or a few to first-time buyers for under $50,000."
The fraudulent listing also states the home is occupied by tenants, and due to their lease, must have 48 hours notice before an interested buyer can see the property. But before the 48 hours notice is given to the current tenants, 20 percent of the asking price -- "hard cash" -- must be deposited into the owner's independent escrow agent's bank account within an hour-and-a-half of their initial contact with the property agent.
Guess we can see where this one's going. The request to send a cash deposit to the sellers skips the use of a title company which would traditionally hold an escrow account and be subject to many laws that protect consumers' money. A red flag for sure. The seller's process also ignores the fact that typically, buyers select the title company.
Contact information listed only a last name and a phone number. There's no way to know how many, if any, people fell for this one.

This is a good example of why buyers should avail themselves of the services of a licensed REALTOR® to keep them from falling for an offer that truly is too good to be true.
---