Wednesday, September 18, 2019 / by Vanessa Saunders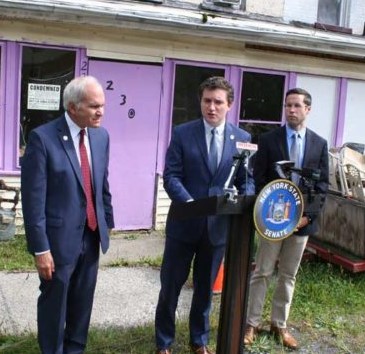 Governor Cuomo signed into law new legislation requiring Limited Liability Corporations (LLCs) to disclose all parties involved in buying or selling properties in New York. Prior to the law, property owners coild hide behind anonymous "shell" companies, making it impossible for the law to enforce code violations. The law is intended to bring full transparency to LLC partners.
The measure was sponsored in the Senate by James Skoufis (D, Woodbury), who chairs the Senate investigations committee, which has been concentrating on code enforcement issues, and Assemblyman Kenneth Zebrowski, (D, New City).
In a dramatic setting, they announced the new law while standing in front of a condemned two-family house at 230 City Terrace in the City of Newburgh. The property's owner is listed only as T&J Estate Properties LLC. Condemned in March of 2019, the house has been written up for nineteen code violations in 2019. The city cannot locate an owner responsible for the building.
Now, any LLC-owned building with one to four apartments, must disclose everyone involved when there is a purchase or sale, noted Skoufis.
"The mask will finally be pulled off of these anonymous real estate LLCs. This is an issue that is prevalent all across the Hudson Valley," he said. "It presents challenges to municipalities." Skoufis noted that the Village of South Blooming Grove has a particularly high number of limited liability corporations "buying up property left and right."
Zebrowski explained that LLC corporations were initially set up to help small businesses incorporate quickly and easily. Zebrowski said, "You should not be able to hide behind an LLC when you are having people live in your property in dilapidated conditions and you should not be able to hide behind an LLC when you are putting people's lives at risk."
---