Tuesday, June 23, 2015 / by Vanessa Saunders
I have absolutely no idea what Mercury in Retrograde means, only that when someone tells me that it's been a crazy month and that everything will soon be back to normal as this seemingly unfortunate line up of the planets moves on to a better place, I find I can breathe a little easier!
For a while there, it seemed as if the world went a little crazy. Did you feel it or is it just a real estate thing? New home buyers were on a feeding frenzy, trying to get ahead of the interest rate hikes, and get moved in for school registration. Sellers were sticking their heels in, totally in denial that prices aren't surging as the national news keeps reporting. Sadly that's not happening anytime in the future in the Hudson Valley market. (read on for further explanation.)
Agents were leaving doors unlocked, alarms were going off, and storms bought down trees on lines, attempting to cut off all communications. Thank goodness for the "Cloud", Wifi, Cell Phones and IPads, (not forgetting battery chargers and our trusty car chargers!) I'm thinking a whole house generator is going on the top of my wish list right now.
Building inspectors also seem to be having a bad time of things lately. Their grumpyness adding misery to many a seller trying in vain to get a CO in place in order to close. Co-Op boards seemed crazier than usual, (is that even possible?) And the banks continue to throw spanners in the works at any given moment. One lender insisting on speaking to a deceased seller, refusing to negotiate with the Executrix! Another, the week before closing, had their underwriters nix the deal, even after the appraisal and commitment were in order. Thanks to that bank, the buyers spent six weeks in a hotel while our trusted Luxury Mortgage Lending team headed up by Barry Goldenberg came to the rescue. You can't make this stuff up...
Illness seemed rampant. A raging flu has infected agents, attorney's and clients alike. Sadly over the past month, one of our agents Lori Libby lost her husband after a long fight with cancer.
When I saw a brief opportunity to relax at a friends house in the Hampton's, it rained all day for the three days we were there. And then the sun came out the moment we started the dreaded drive down the LIE. Finally, that pesky Mercury has moved on, and so does life at the helm of this ever-rolling ship.
On the bright side, there are lots of new listings, excited buyers, huge corporate relocations, a fantastic new Elite Marketing Program for our Luxury Listings, and the new Houses.NetApp which just launched making hunting for a home even easier, with no mis-information like the Giant Portals, Zillow, Trulia & the now owned by Rupert Murdoch Realtor.com. We are happy to announce the addition of two new agents who have joined the team here at GPS. Sun Fung Wong (AKA Anita O'Grady) is based in White Plains, fluent in Cantonese and will cover the entire GPS area. Sung Chung (AKA Brian Chung) fluent in Korean, is based in NYC and covers north Bergen, NJ, Rockland and Westchester markets. A huge welcome to these talented two, we look forward to updating you on their progress.
The following will give you an idea of the real estate market we are dealing with here in the Hudson Valley. While in other markets inventory is dropping, and the sellers are gaining control, there is still an enormous amount of unsold inventory here, with even more being added every day.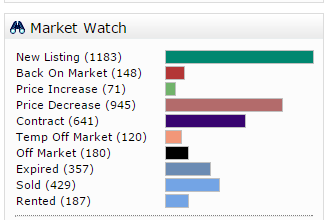 This graph shows just the last 7 days on our main MLS system, The Hudson Gateway Association of Realtors MLS. (HGAR.) HGAR services the markets covering Westchester, Rockland, Putnam, and Orange Counties. The huge amount of new listings is unusual so late in the season, and are a combination of Expired Listings (Homes which previously failed to sell - usually due to incorrect pricing, or bad marketing,) going back on the market. Then there are a good number of REO's (Real Estate Owned - by the Banks.) These properties are those that failed to sell at auction after foreclosure, and now the banks are beginning to release onto the market. This keeps prices down as the banks want to rid themselves of inventory. Again, a negative factor when attempting to sell. The majority of buyers we are seeing coming into the area are the new kids on the block. First timers going for bargain prices and jumping onto the home-ownership bandwagon, but only in the lower price ranges across the board.
Others buying are just a few down-sizers, (most move south or to better tax regions.) Move uppers, doing well in business, or looking to move out to the 'burb's and commute to city, thus providing a better lifestyle for their families. Another group buying is the growing number of global investors.They're buying just about anything they can lay their hands on! Their goal is mostly to get money out of wherever they live and into the safe haven of the USA, and earn some interest over time too. Then there's the Corporate Market, but it's dwindling as more and more corporations move out of New York, due to high taxes and cost of living... Immigrants are certainly rampant in some markets, usually where there is a good school, college or educational institution nearby where the infamous suitcases of cash are rumored to be pushing up values. Manhattan, Queens, Brooklyn and the Bronx are leading this trend. Though we are seeing many moving further north, as not all are millionaires.
So far this year has boomed for our company where others are struggling. Our global marketing program is working for our sellers, and our international buyers are thrilled that we are so adept in communicating the ins-and outs of property-ownership in the USA. In the last month we have closed on 12 properties, 9 of which were to overseas buyers! There were even a couple for more than asking price! All of them bought with cash...
Selling a property in the Hudson Valley of New York isn't an easy proposition these days, but with the knowledge of where and connections to target, rather than just the usual MLS and National Portals, you stand a much better chance of doing so.
As always, should you have any questions regarding buying or selling a property here, there or for that matter, anywhere around the globe, we are here to help, just get in touch, and we'll do our utmost to assist you.
Cheers!