Wednesday, October 30, 2019 / by Vanessa Saunders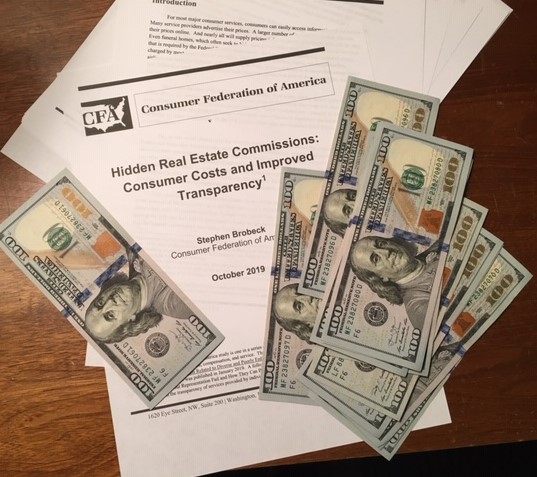 A
report just out
from the Consumer Federation of America slams real estate brokers for failing to be forthright and transparent about how much in commission they charge their brokerage clients.
According to Inman News, the nation's leading real estate news service, "The report is based on a survey of 2,000 Americans, as well as conversations with 200 agents located in 20 metros and an analysis of 263 agent and broker websites across four markets.
According to the study, only 32 percent of Americans know an agent's typical commission, which it claims is 4 to 6 percent of the selling price. Of the 453 respondents who've bought or sold a home within the past five years, only 44 percent knew the typical commission."
The CFA maintains that "the U.S. Department of Justice can increase cost transparency by investigating the buy-side commissions to which home buyers do not have access, and it appears to be doing so."
In our opinion, this report is unfair and in many cases, untrue. Here's why.
1. To say that the "typical agent commission" is 5-6% unfairly fails to mention the fact that while 5 to 6% may often be the amount of commission paid, that commission is split between the listing agent, listing broker, selling agent, selling broker, and possibly a portion going to errors and omissions insurance or franchise fee.
2. As for survey respondents supposedly lacking knowledge regarding the "typical agent commission," why would someone who has never bought or sold a home know what the average real estate commission is? I don't know how much commission my car dealer gets for selling me a car. Nor do I know the commission paid my insurance agent, jeweler, pest control salesman, clothing store salesperson nor my Uber driver. Are all these people conspiring to keep me in the dark about how they get paid?
3. And why would buyers care about the commission in the first place? The sellers sure do, because they negotiate it with the listing agent when they list the property. Buyers often don't care to know the details, because they don't pay it. The sellers do. How would this bring transparency in the deal when the party the government is working so hard to protect is not financially impacted by the commission fee?
4. The report itself says that when asked, "96% of agents were forthcoming about commission." That doesn't surprise me. It's not like agents can hide the commission charge. Both buyer AND seller get to see the exact commission at closing, because by law, it is written on the closing statement they sign.
What does surprise me is that the Consumer Federation of America asked what a "typical" commission would be. In real estate, there should be no such thing as a typical or standard commission. Any mention of a typical or standardized commission is in direct violation of Federal Anti-Trust laws against price fixing.
It has always been our policy to be sure our clients, both sellers and buyers, are aware of all costs that affect their ability to buy or sell a property. I don't know what could be more transparent than that.
---