Thursday, June 6, 2019 / by Vanessa Saunders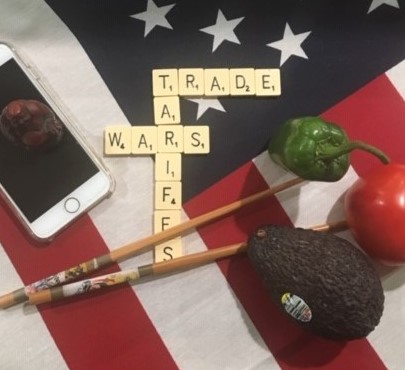 There are a lot of down sides to the trade wars recently declared by President Trump on China and Mexico. But one unexpected benefit affects people shopping for homes: interest rates are going down. Barry Goldenberg, Senior Loan Originator for Luxury Mortgage explains, "Mortgage rates loosely follow the yield of the 10 year treasury note, which has dropped steadily over the past month and a half. This is due in part to instability in the economy caused by worries over the recent tariffs on Chinese and Mexican imports."
Mortgage rates are dropping at just the right time for home buyers who are in the market to purchase a home. Whether its first time home buyers or buyers who are looking to trade up to a larger house this summer, the drop in interest rates couldn't have come at a more opportune time. The average rate for a 30-year mortgage dropped for a fifth straight week to 3.99 percent, which is the lowest since January 2018. Home buyers are naturally sensitive to the monthly cost of what a mortgage payment would look like, so every advantage they can get is worthwhile.
According to Mr. Goldenberg, fear over the ongoing trade war with China and now Mexico have investors suddenly rushing to the relative safety of the bond market, pushing yields lower. In some cases the market has seen 30 year fixed rates drop by .375% to ½ point. "I ran a scenario just yesterday for someone purchasing a $370,000 house who were thinking of putting down 20%" said Mr. Goldenberg. "I suggested looking at a 10% down payment instead because the monthly payment differential was only $176 more per month. The borrowers got to keep $10,000 they would normally have had to tie up in a mortgage down payment. It's like a gift!"
Mr. Goldenberg offered another example of how home buyers can save on their mortgage. "Take someone who is applying for $450,000 mortgage. The monthly payment is now $100 less than it would have been back in late April. On another note someone who was looking at purchasing a home in the beginning of the spring purchase market would now be able to purchase a home for $25,000 more due to the drop in interest rates assuming real estate taxes were identical."
"I would recommend" said Mr. Goldenberg, that anyone who's is considering buying a home this season to look into financing sooner rather than later. I expect this rate drop is a temporary event, and not a long-term direction for interest rates overall."
For more information or to reach
Barry Goldenberg
regarding your next mortgage, contact him at:
914-934-4341
bgoldenberg@luxurymortgage.com
Click on our LinkIn.Bio to
contact
a Global Property Systems REALTOR® to help you search for your home in the Hudson Valley.
---