In this weekly column, real estate agents across the nation share stories of the lessons they've learned during their time in the industry.
Originally hailing from Wales (U.K.) and having started her career in marketing with British Airways, Vanessa Saunders is used to approaching the world from a global perspective.
Perhaps it's natural, then, that her real estate business takes an international view of marketing properties. Find out how the founder and CEO of Global Property Systems (GPS) turned a tragic setback into a thriving real estate business.
How long have you been in the business?
Prior to joining the real estate profession, I was SVP of international marketing and development for a Fortune 500 conference and exhibition company. In that capacity, I was offered a sponsored position on the board of the World Trade Centers Association, and my family and I moved to NYC in order for me to take up that job in 1999.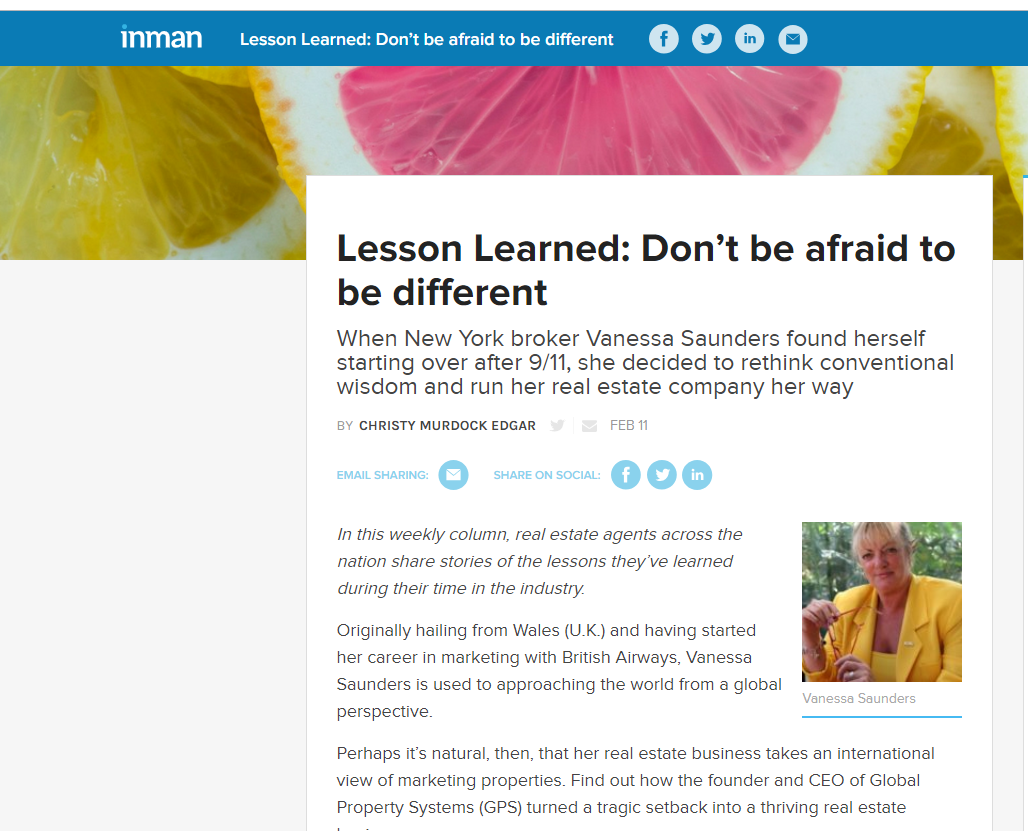 In January 2002, I became licensed as a Realtor. In my first week of brokerage training, I was challenged to make some cold listing calls. My first call led to an appointment.
I listed the property and sold it in three days. Subsequently, a neighbor of my first listing called me, and I listed and sold that house the following week. I was off and running and never looked back.
Where do you see yourself in 5 years?
My original plan was to build a company in order to have something to sell when I retire. But now as we are growing and on fire, I have no plans on retiring anytime soon!
As I'm back to traveling a lot on business, I expect I'll tie it into more and more time on vacation. I want to spend quality time in the countries I visit, with my husband in tow.
What's one big lesson you've learned in real estate?
I've learned that being different and founding a non-traditional cloud-based brokerage isn't the scary place everyone warned me about. Most gave me a year, some two. Now seven years on, we are thriving.
How did you learn it?
It was a leap of faith. When I started planning Global Property Systems, I threw out all the things I hated about traditional real estate. I hated the energy-sucking formality of it.
Weekly sales meetings. Paper forms. Up-time. Having to use the crummy office computers and competing for clients with not only my colleagues but my broker as well, who cherry-picked the leads.
It seemed logical to take the bricks and mortar out of the equation (except for our commercial real estate division). This allows us to invest more into technology, marketing and training to support our Local Area Specialists (Realtors), allowing them to work from home and do what they do best, which is to service our clients.
We provide the leads, an award-winning CRM to convert them, plus the training and marketing necessary to ensure success.
Our clients don't care that we don't have an office in their town. Our agents love working remotely, yet interacting daily with each other and our admins online. It allows us to work as a team, and it allows me to focus on what I love as well, which is marketing my company and traveling the world.
What advice would you give to new agents?
Our new agents range in age from their early 20s right out of licensing class to others in their 60s who are well seasoned Realtors. Many come from corporate backgrounds with no experience. (My favorites.)
My advice is, "Never 'sell' a house." Instead, be a consultant, and give honest answers, researched information and the services our clients need to make their own informed decisions.
Christy Murdock Edgar is a Realtor, freelance writer, coach and consultant with Writing Real Estate in Alexandria, Virginia. Follow Writing Real Estate on Facebook or Twitter.