Tuesday, November 10, 2015 / by Vanessa Saunders
By Bobbie Ann Flower Cox Esq.
Ok, so that being said, let's get down to business. I am a local real estate attorney, and I specialize in property tax grievances (aka tax certiorari). I'm going to give you the who, what, where, when, why, and how on how to save money on your property taxes. Just read on!

Who? If you own a property, New York State law provides that you can grieve your property taxes. It used to be that only commercial property owners were permitted to grieve. But thanks in large part to my father, Robert Flower of Flower Property Tax Consultants in Bronxville, the law now permits home owners to grieve as well.
What? You do not technically grieve your tax dollar amount per se, but instead you're grieving your assessed value. This is a dollar amount that is given to your property by your local assessor. It is not to be confused with your actual tax dollar amount. Look on your property tax bill, it's usually called an "assessed value" or a "valuation" or something of that sort. Your property tax dollar amount is calculated based off of that assessed value number. So a property with an assessed value of $10,000 will have lower taxes than a property in the same municipality that has a valuation of $20,000. Generally speaking, the lower you can get your assessed value, the lower you can get your resulting taxes.
Where? Although the law governing property tax grievance is a state law, you actually grieve your taxes through your local municipality. After all, it's your local assessor who determines what your assessed value will be. That is where this process begins. If once you grieve with your assessor your complaint is denied, or not granted in full, you then have the right to file an appeal with the NYS Supreme Court.
When? This is a very important question. Each municipality has its own grievance period. You must be very careful to file your complaint within the applicable grievance period, otherwise you will lose the chance to grieve that year! Check out your local assessor's website for their grievance period, or give them a call to confirm. Generally speaking, many (although not all) cities in Westchester this year will allow complaints to be filed from June 1 – June 16. One day late and you'll miss the boat, so be prompt.
Why? Obviously we know we want to lower our property taxes so we can save money to use for other wants and
needs. But there is another reason to grieve your taxes… increased property value! In today's economy, owners are understandably finding it very difficult to sell a property, so sellers are trying many creative ways to attract buyers. One extremely clever way to do so is to offer a property with lower taxes. If you are in the market to buy real estate, and you find one property with taxes of $12,000/year, and a similar property with taxes of $19,000/year, which property are you going to buy?
How? To file a grievance, technically called a "Complaint", you must first determine if you have a case for reduction. For this, you can turn to a professional, or you can try to get some assistance from your local assessor's office. You can also search the internet for some "how to" books or pamphlets, or you can try your assessor's website. Some assessor's will post guidelines on their sites to assist owners in trying to grieve.
Once you have determined you have a case, you must then obtain the Complaint form. You can do so from your local assessor, or you can find one on the NYS Office of Real Property Services website. You then file your completed form with your local assessor and attach any of your supporting documentation. The assessor will review your Complaint and issue a written decision generally several weeks after you submit the Complaint. If you are denied a reduction in full or in part, you can then file an appeal with the NYS Supreme Court. This appeal is called a SCAR Petition (Small Claims Assessment Review) for residential properties sized 3-family or smaller that are owner occupied, and is called an Article 7 Petition for commercial properties. For a SCAR, the filing fee is $30, and for a commercial property, the filing fee is $210. You will need to hire an attorney to handle your Article 7 Petition, but the SCAR Petition you can try to do on your own.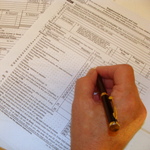 So those are the general basics on lowering your property taxes. As with anything in life, there are caveats and exceptions to all rules, so if you are serious about saving yourself some money and increasing your property's value simultaneously, I strongly recommend you hire a professional to handle the process for you. Much like doing your income taxes, you can try to figure it out on your own, but most people prefer to pay a professional to avoid the headaches and wasted time of an amateur.
The key to success is knowing what you are doing, doing it within the correct timeframe of the multiple deadlines, having the correct evidence, and having the negotiation skills.
Good luck and happy filing!
Bobbie Anne Flower Cox, Esq.
34 Palmer Ave.
Bronxville, N.Y. 10708
Ph. 914 –779-7762
Fx. 914-337-3619
Email: bcox@coxlawyers.com
Web: www.coxlawyers.com