Monday, November 30, 2015 / by Vanessa Saunders
I heard recently from a Hudson Valley real estate agent who said that a client had fired him, in part, because he hadn't disclosed that the property the client was interested in was next to the home of a sex offender.
The agent said he regularly advises buyers to visit neighborhoods in person, to check in with police departments and to review county and state sex offender registry websites. He said he told the buyer, however, that he wasn't legally able to reveal that a sex offender lived near the property.
The agent, however, was wrong about that restriction. Only in New Jersey and Delaware is it illegal for real estate agents to provide sex offender information. Buyer's agents in New York can even legally share information on sex offenders with buyers in all other states, according to the National Association of Realtors (NAR) legal department.
In fact, buyer's agents often should share certain sex offender information with buyers in states where it's permitted, according to guidance from NAR and real estate attorneys. That generally means not only providing notice to buyers of where they can find sex offender information but also sharing any actual knowledge of offenders living close to listings of interest to buyers.
In addition to disclosing actual knowledge of sex offenders, buyer's agents should also consider revealing information they may have come across on a state sex offender registry that might be relevant to a client — as long as they cite the registry as the source of the information.
In New York state, the Department of Criminal Justice Services is responsible for maintaining New York's Sex Offender Registry, which provides New York residents with information about sex offenders living in their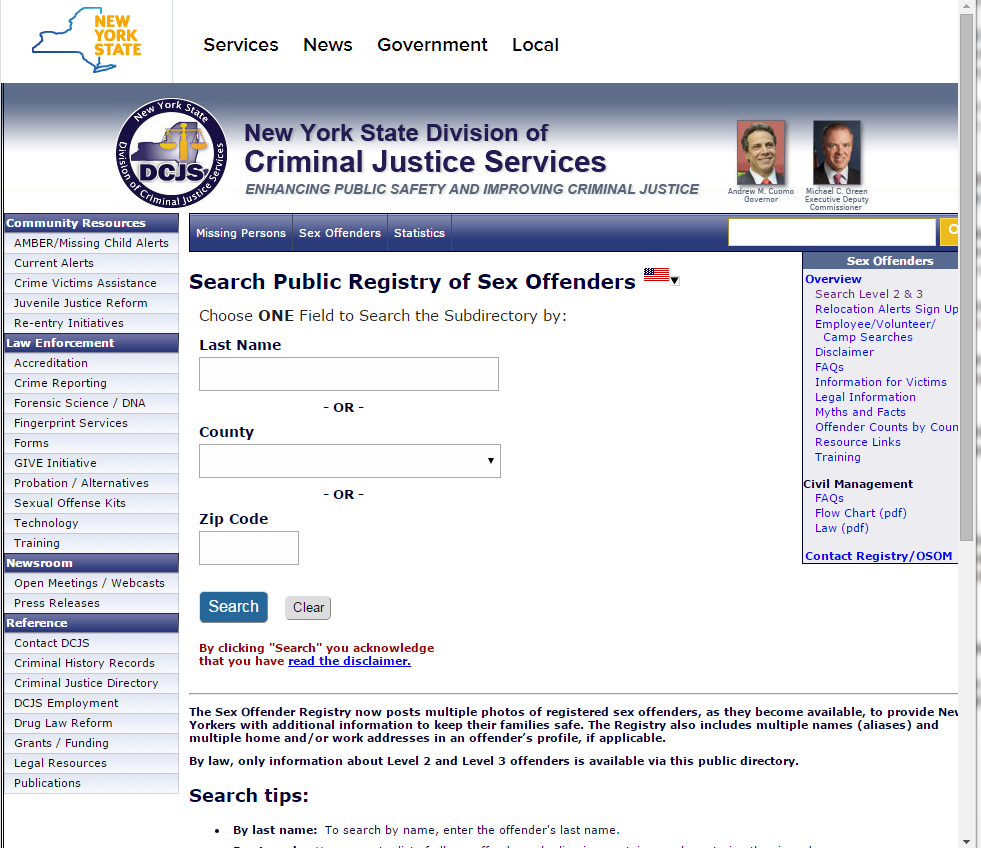 communities. There are three levels of sex offenders – Level 1 (low risk of re-offense), Level 2 (medium risk of re-offense) and Level 3 (high risk of re-offense); risk level is set by a judge after a court hearing.
By law, only Level 2 and Level 3 sex offenders are listed on the public directory. This directory now posts multiple photographs of registered sex offenders, as they become available, to provide New York citizens with additional information to keep their families safe.
In addition to multiple photographs, this directory also includes multiple names (aliases), multiple home and/or work addresses in an offender's profile, if applicable. Additional information including conviction charge, sentence, supervision conditions if the offender is on parole or probation and vehicle information also is posted.
Some buyer's agents tell buyers that fair housing laws prohibit them from sharing information about sex offenders. But the Department of Housing and Urban Development (HUD) has explicitly stated that sex offenders are not protected by the federal Fair Housing Act. No fair housing experts that I've spoken to for this article were aware of any state or local fair housing rules that protect sex offenders.
By all means, Realtors should take it upon themselves to protect clients, especially clients with young children, from exposure to registered sex offenders. That's not to say that buyer's agents are legally obligated to dig up sex offender information for buyers. They are not, NAR says. Any responsibility agents may have to share sex offender information ends after they have disclosed what they already happen to know. The key here is that a good agent should keep abreast of offenders residences as a part of their general knowledge of neighborhoods and home inventories.