Wednesday, March 4, 2015 / by Vanessa Saunders
By Fred Rossiter
Who is "Big Brother"?
If you're a Realtor, appraiser, buyer or seller, Fannie Mae will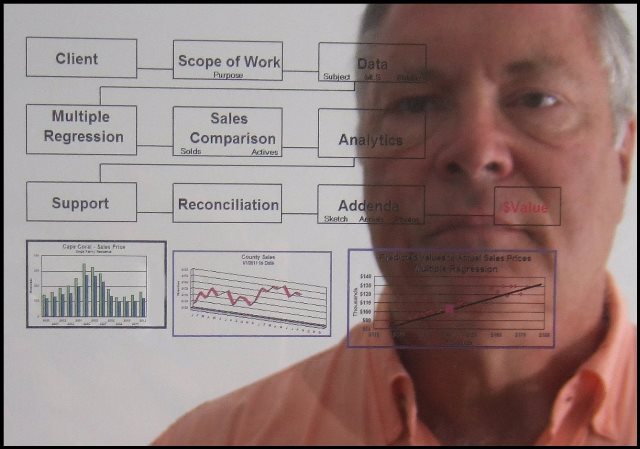 soon be your big brother in real estate. Fannie Mae is going
to start scrutinizing appraisers and their appraisals like never
before beginning January 26, 2015. They've got a new tool
called the
Collateral Underwriter™
. It's a risk assessment system they are giving free to lenders to evaluate appraisals and appraisers. "
CU™
", as it's known within the industry, will analyze and compare the appraiser's selection of sold comps, adjustments, gross living area, condition and quality ratings, bathroom count, value conclusion, etc. against other appraisals already made.
CU™
will analyze 21 different fields on the appraisal report and "red flag" those entries that don't compare favorably with their "Big Data". A "Red Flag" is a "hard stop" that will require a resolution before the appraisal is accepted. No appraisal, no loan, and no loan, no sale. Everyone in the real estate transaction will be impacted by Fannie's
CU™
.
Big Data?
It's Fannie Mae's reservoir of housing data, mined from some 14 million appraisals performed and 20 million sales transactions since implementation of the
UAD (Uniform Appraisal Dataset)
on 9/1/2011. UAD standardized reporting formats and terminology in appraisal forms to facilitate the collection and analysis of housing data.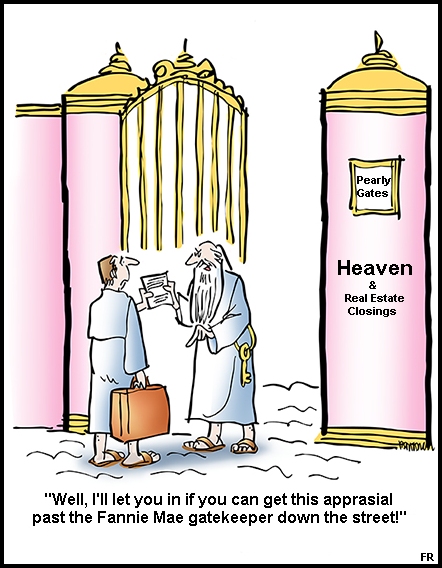 Now that they have the "Big Data", Big Brother Fannie Mae, and his other brother Freddie Mac, will use
Appraisal Quality Monitoring (AQM)
to lower the hammer on appraisers who inflate values, produce appraisals with inaccurate information or use adjustments for variables that they cannot support. A few red flags will generate a call from Fannie Mae to the appraiser for an explanation. A few more red flags will generate a call to "reeducate him". Too many red flags and the appraiser will be put on Fannie Mae's
100% Review
list or their
Do Not Use
list which will essentially end the appraiser's residential lending career.
CU™
and AQM are Fannie's big stick to identify and whack bad appraisers and inflated values.
Why CU™ and why now?
Prior to the catastrophic real estate crash of 2008, there was really no way to identify whether a loan was low or high risk until, and if, it went into default. Since the crash, the pendulum has swung the other way. CU™ is a risk assessment, "front end" appraisal review program, intended to cut losses. It will be used before the loan is funded to score the appraisal from 1 to 5. A score of 1 will be considered low risk; a score of 5 will be a high risk indicative of an appraisal that does not meet quality guidelines. Appraisals will be categorized on their risk score. In this manner, risk will be calculated and considered prior to a loan ever being made. Appraisals that are identified as high risk will require a revised appraisal or perhaps trigger the need for an additional appraisal. Until the appraisal meets guidelines, Fannie and Freddie are not buying the loan.
The impending implementation of
CU™
is sending chills thru the appraisal industry. An appraiser's adjustments and conclusions of value are based upon quantitative data … that requires regression analysis or qualitative data which is subjective in nature and not easily supported. Appraisers anticipate that
CU™
, will impose an additional work load and expense on them.
Value - It's All Rocket Science Now
What is a home really worth? Well, in the old days, before Big Data and regression analysis, current market value was defined as "what a ready, willing and able buyer is willing to pay and what a ready, willing and able seller is willing to sell for as evidenced by three or more sold comps. That definition has morphed into the most recent definition of "the most probable sale price that a property will bring on an open market".
In the past, pinpointing market value was difficult so a Realtor frequently put a home on the market at an inflated price and then instituted a series of price reductions until the home eventually sold. Testing the market at different price points was one way to discover the true market value of a property and insure that the seller got the highest possible price. In this manner, the Realtor put the horse before the cart. The Realtor got the property under contract and then hoped and prayed for an appraisal that would support the sales price. Appraisers tried their best to support the contract price.
CU™
is going to change all that.
CU™
will compare the appraised value of the subject property to sold prices of other similar properties within their database and send up a red flag if it appears the appraiser is inflating the value.
Today, the valuation of real estate has become "rocket science". The same regression technology and robust data used in Fannie Mae's
Collateral Underwriter™
is available to appraisers. Regression technology allows the appraiser to determine value more accurately than ever before. The appraisal of property was once considered an art; now it has become a science. The market value of a home will no longer be determined just by what one seller wants to sell for and what one buyer is willing to buy for. Rather, market value will be defined by what Big Data and regression analysis say it is based upon dozens or hundreds of similar sales. Fannie Mae and lenders will use Big Data and their
CU™
system to indicate whether the appraiser got it right.
Appraisers will be forced to be conservative
CU™
and
AQM
will force appraisers to be more conservative. Appraisers will need to use regression analysis to support their adjustments and values to reduce the chance of receiving a red flag on their reports. Appraisers will be hesitant to stretch values to meet a contract price for fear that a resultant red flag will jeopardize their careers and that is going to impact everyone in the real estate transaction.
COPYRIGHT 2014 – Fred Rossiter