Thursday, April 16, 2015 / by Vanessa Saunders
We've been writing regularly about the federal EB-5 visa program, which gives foreign investors Permanent Resident green cards as a reward for initiating or investing in projects that bring jobs to American workers. It was recently reported on NPR that for the first year since its inception, the limit on the program has been reached. It's no surprise why. Guess who's apparently just discovered the program? The Chinese! According to NPR, 80% of this year's EB-5 visas were granted to Chinese investors.
The Chinese and other investors are flooding the program with building projects like the one currently under construction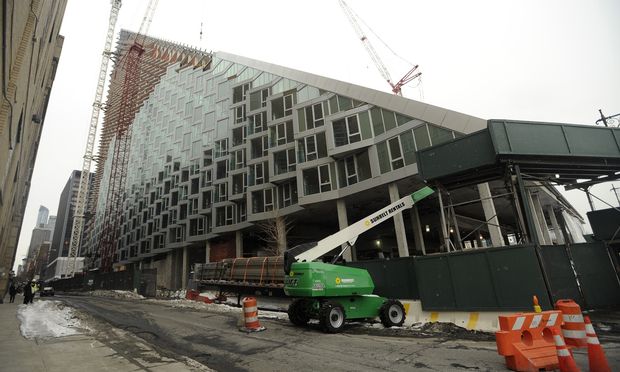 at 625 West 57th Street in Manhattan. It's a 709-unit rental building funded mostly by a cadre of four hundred Chinese investors, each getting in on the action for an investment of as little as $500,000. Each investor has a piece of the pie, and each gets a green card for providing jobs for ten American workers - ostensibly from the construction crews working to erect the building.
What this means is that investors with relatively modest amounts of cash, as real estate developers go, can get in on this governmental program and go to the head of the green card line. A process that takes approximately four years gets fast-tracked to only about a year.
The EB-5 visa program was created 25 years ago, but it started gaining in popularity when banks stopped lending during the financial crisis in 2007 and 2008. International developers now use the EB-5 program to help finance many large projects in New York City, including portions of Hudson Yards, the Brooklyn Navy Yard and Pacific Park (the development formerly known as Atlantic Yards). In the Hudson Valley, one such project is Nyack's NYLO hotel, being built along the New York State Thruway. GPS real estate has brokered several EB-5 projects upstate recently, including two farms purchased by foreign nationals, and a restaurant project referred to brokers in San Diego, CA.
Once again, success in real estate again points toward global access to buyers from abroad. But, as with all good things, the Green Card gravy boat may not last forever. NPR reports, "This year, the visa's are expected to be maxed out again, but even more quickly. In the meantime, the SEC and Homeland Security are paying more attention to EB-5 visas. And in September, parts of the program will be up for Congressional review."