Tuesday, August 23, 2016 / by Vanessa Saunders
Home maintenance is a never ending to-do list. Over the years it is easy to start putting things off until doing so becomes a bad habit. You may leave your spare key in a flower pot by your front door or even forget to lock your windows when you go on vacation.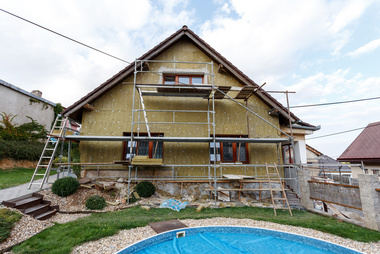 These habits can become costly and dangerous. Here are five more "bad homeowner habits" you should break right now.
#1: Not Cleaning Your Gutters
Have you ever walked outside and noticed leaves hanging out of your gutters? Avoiding this task can become expensive! When water can't flow through the gutters it seeps into your home's foundation, resulting in costly repairs. Don't wait until damages occur to clean them.
Instead: Get that ladder out or call a professional and get those gutters cleaned before a big storm comes. Be sure to immediately fix any hanging gutters. Don't forget to check for ice dams in the wintertime or for water damage after a thaw.
#2: Leaving the Lights On
It's OK to leave a hall or bathroom light on if you are going to be out late. And of course you may want to leave your porch light on. But when you are gone during the day, why are your lights on? Too much money is wasted for no good reason when homeowners habitually leave lights on.
#3: Not Cleaning Out Lint Traps
It may seem like a small thing, but when you let layers and layers of lint pile up in your lint trap it becomes a fire hazard. It's often the simple things that are easiest to neglect that end up costing the most in the end. Prevent the creation of a costly fire hazard by remembering to clean out your lint traps. (If you have a fireplace, often the chimney sweep can take care of the lint traps along with your flue.)
#4: Leaving Windows Unlocked
This is a pervasive habit. You leave the window in your upstairs den or the sliding door to your backyard patio unlocked. You hide your spare key in obvious places. Some of the worst homeowner habits are rooted in pure carelessness.
Instead, invest in a device like
a touch screen deadbolt
; this eliminates the need for hiding keys in vulnerable locations. Always wait and make sure your garage door is closed before leaving. Lastly, remember to close and lock all windows if you are going to be gone for an extended period of time.
#5: Late Payments
Finally, it should go without saying that you should always make your mortgage payment on time. However, things come up and sometimes your bank will grant you a grace period to pay. Don't make this a habit. Late payments are reported to credit agencies. When you habitually make late house payments, it is going to hurt your overall credit score. Automated deductions from your account can help guarantee you won't simply forget to make the payment any one month.