Tuesday, December 8, 2015 / by Vanessa Saunders
This weeks editorial from Vanessa Saunders
Bah Humbug the Holidays are upon us like it or not!
If you don't do Holidays, that's perfectly fine with us, but even

those celebrating can end up feeling like Mr. Grinch when coming down with flu or a bad cold. I don't tend to get sick much in the terms of full-blown flu, but I get a lot of sore throats and the occasional cold. Getting enough fluids is important and here's a simple home remedy using just lemon, honey,
and ginger, which all have sinus-clearing, anti-inflammatory properties that boost your immune system. It's so useful, comforting and warming, even as a preventative measure, but be careful Mr. Grinch, as it's sure to brighten even the darkest day and might even make you smile.

Simply fill a mason jar with lemon and ginger slices and add honey plus a couple of cloves and a stick of cinnamon, if you like them). Keep this in the fridge where it will form a 'jelly'. When you are ready to have your comforting drink, just spoon a tablespoon of it into your mug and pour hot water or tea of your choice over it.
You can always add rum, bourbon or whiskey if that's your thing. Enjoy it any way you like!
---
SOMETHING FOR SEASONAL DISORDER
When the air is damp and cold, I am tired from the stresses of the workplace and it seems like it is dark every time I step outside the door. These are the days when stew simmers on my stove and just the smell of it brightens my day. Today is one such day. Stew is a childhood dish, its aroma is a memory, its preparation returns me to a different kitchen in a different home, where someone else lovingly chopped spuds and peeled carrots. It is a dinner that needs to be eaten with a spoon, that refuses to be rushed and that is indestructible to even the most novice of cooks. And, despite my personal preference for pastas or risottos, steaks or sea bass, curries or crostini, there are still occasions when meat, potatoes and veg, cooked together slowly in one pot are just what the doctor ordered. These are the days when food is about more than just taste, it is about home, simplicity and comfort. So as the casserole dish bubbles away in the oven, I thought I would share this recipe from my childhood growing up in Wales. I love where the sight and smell of where it transports me. To the kitchen of my childhood. Do we all have meals like that? Meals that transport us to another place. Meals that are about something far more special than simply taste. Here is my recipe - Enjoy!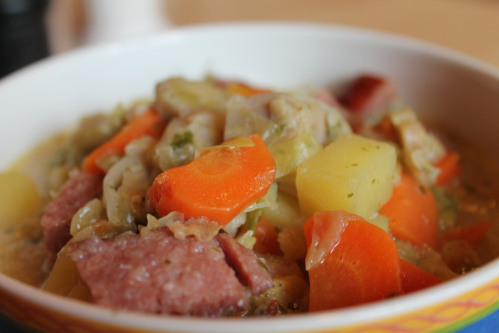 Ingredients:
2 glugs of olive oil
4 lamb chops
1 onion, peeled and roughly chopped
2 parsnips peeled and roughly chopped
1 generous sprinkle of dried oregano
3 large carrots, peeled and roughly chopped
1 l (1¾ pints) beef or lamb stock
A handful of potatoes, peeled and quartered
A sprinkle of fresh parsley
sea salt and ground black pepper
Method:
Preheat the oven to 180°C. Place a large, flameproof casserole pot over a high heat, add the olive oil and brown the lamb chops. Reduce the heat to medium–high, add the onion, potato, parsnip and carrot and simply toss with the meat for a minute or two. Sprinkle in the oregano and pour over the stock, season generously with sea salt and ground black pepper and bring to the boil. Cover the dish and place in the oven to cook for about 1 hour or until the meat is tender. Sprinkle with chopped parsley and serve from warm bowls with buttered bread if desired.
---
HOLIDAY SHOPPING
Whether you are celebrating Hannukah - Christmas - Kwanza or just enjoying the Holiday Season, I'm sure the last thing on your mind is selling your home! You may have missed the fact that many buyers are spending the holidays doing research ready for starting the hunt for the perfect home - A lot of buyers are out hunting, spurred on by rumors of imminent interest rate increases.
Here are this week's stats from the Hudson Gateway Association of Realtors. Notice the number of expired listings - All of those will be going back on the market in the spring, when yet again our local markets will be saturated with listings. The inventory is currently low, so motivated buyers only have a limited choice. It's a great time to sell!!!
We also added yet another opportunity to find Chinese buyers last week when FIABCI finalized an agreement with China. Now our listings are being showcased to an additional 2.6 Million Chinese buyers and investors each week. We were the first members of FIABCI to post over 50 listings to the newly formed site!
Did you know:
Chinese investors do not go on holiday during the Christmas period.
They start preparing for Chinese New Year (Feb 8, 2016) when they will travel overseas.
They are actively looking online at the available listings for sale.
Now is the time to showcase your home in front and center to the 2.6 million Chinese property buyers we now have access to who are looking at international properties on sale.
That should bring you some cheer this holiday season!
Happy Holidays to You All!!