Saturday, April 4, 2015 / by Vanessa Saunders
In the State of New York, we are seeing a huge amount of global investment dollars entering our market. Depending on where your property lies, you may feel you are sitting on a gold mine, or a black hole which is sucking up your hard earned savings as it continues to drop in value. It turns out that the Hudson Valley of New York is a shining example of a huge gorge. On one side of the Hudson River, property owners are riding high on surging property prices, while the opposite side are still drowning in a sea of short sales and REO's (Bank Owned Properties). However, the vast majority of those who are on the wrong side of the river can take hope in the ever growing international feeding frenzy. It's just a case of making your presence felt where it matters. Globally.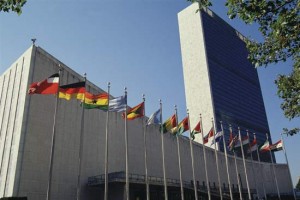 This week I attended the George Washington University Global Conference in conjunction with FIABCI (International Real Estate Foundation) at the United Nations The subject of the conference was "The Current State of the Global Housing Market." Presenters represented the International Monetary Fund, The World Bank, and Center for International Private Enterprise. In my session Beyond the Big Apple, I discussed the vast differences in property prices in the Hudson Valley of New York, and provided an overall picture of the demographics of who is buying and why.
Everyone has heard of the huge increase of Chinese or Russian buyers snapping up luxury condo's in Manhattan, but did you know that there are literally hundreds of thousands of investors from around the world, hungry to cash in on properties of much lesser value in our region?
The disparity of knowledge about these properties among my peers was evident. For example I was asked by a Realtor recently how far north of the city one would
have to travel to purchase a four bedroom home for $600,000. The agent had a client from overseas with that amount to invest but as a high flying Manhattan agent, has never dealt with anything under $5M. She was shocked to find that stepping off the island dramatically increased opportunities for global investors interested in purchasing property of much lesser value. So for those global buyers its also important to work with trained professionals in the business of international sales.
In my presentation, I was able to demonstrate my experiences with foreign buyers who are purchasing just about anything they can get their hands on if it makes sense to them. They are buying farms in the Catskills to luxury mansions, small parcels of land, to suburban homes, and everything in-between. Contrary to popular belief, luxury properties are not the goal of most global buyers, though of course there are many who do have millions to spend. The vast majority are looking for properties priced between $150,000 to $1.5 million. Most have little or no intention of ever living in the property themselves, content to stay put in their motherland, in the knowledge that their money is safely invested in the U.S.A.
I've had experience of all these markets. Only this month I closed on a three apartment multi-family property in White Plains, Westchester. It was in fair condition, but needed a lot of updating and improvements. We listed it at $500,000, received over 25 offers, of which 10 were at full price and cash - ALL from global buyers. A bidding war ensued, we finally accepted $520,000 with the need for an inspection waived! The successful buyers were three families from China all who had children at college in the area.
Understanding the differences in how other cultures purchase property and being able to handle the ensuing negotiations underlines the importance (as a real estate professional,) of obtaining the knowledge and ability to work in this financially rewarding market. The ability to market property overseas in the first place, combined with a team of professionals who can communicate visas, banking, title and tax implications to foreign buyers is the key.
There are many aspects of putting together an international transaction for a non-US Citizen. Armed with the knowledge, together with the CIPS designation (Certified International Property Specialist) and membership in FIABCI, getting the word out globally to the right buyers is proving to be a gold mine for Global Property Systems, and happy sellers and investors alike.