Thursday, March 12, 2020 / by Vanessa Saunders
By Vanessa Saunders, MBA, MIMC , Broker Owner, Global Property Systems
If you're planning a home improvement project for spring, keep in mind the impact your project will have on your home's value. Surprisingly, most major improvements don't pay for themselves when it comes time to sell.
Here are some of the worst home improvements you can do in terms of their return on investment:
#5. Adding extra garage space.
Unless you don't have a garage at all, adding to an existing one comes in as the fifth worst improvement you can make to a home. Garages are expensive to build, and some buyers are actually turned off at having room they may not need. The average garage addition only adds 60% of it's cost to the value of a home.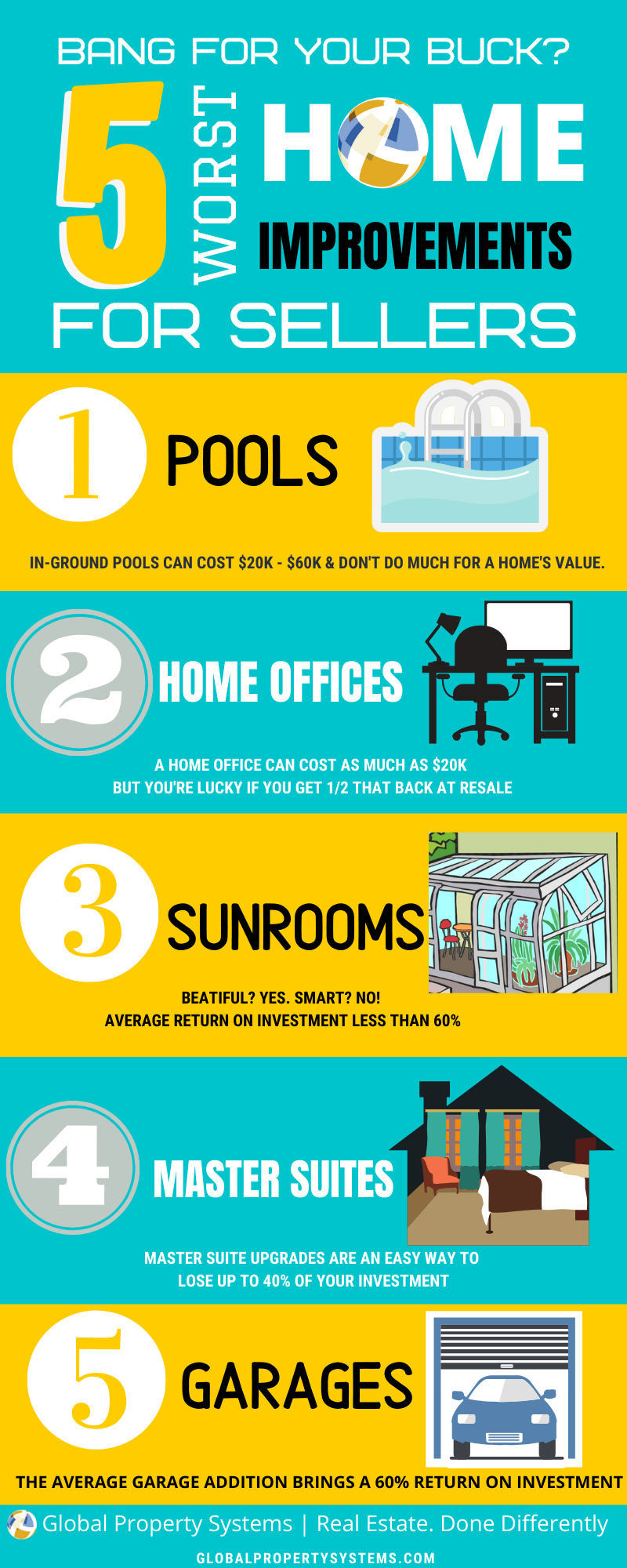 #4. Master bedroom suites.
Turning the master bedroom into an ensuite by adding an adjoining full bathroom will lose up to 40% of its cost at selling time. If you're in the mood for a major project, remodeling the kitchen or a bathroom bring a much higher return. And keep in mind that municipalities often base property tax rates on the number of bathrooms and bedrooms in a home.
#3. Sun room.
Ahh the allure of all that bright sunshine streaming in sounds great, but sun rooms return less than 60% of what they cost. Better to invest in a deck, which is far less expensive and can give you a far higher return.
#2. Home office.
Having a fully functioning home office can cost upwards of $20,000, and pay back only about half that at the closing table.


AND THE WORST HOME IMPROVEMENT YOU CAN MAKE BEFORE SELLING YOUR HOME IS:
#1. In-Ground Swimming Pool.
For some buyers, an in-ground pool is considered a hole in the water you throw money into. They cost between $20,000 up to $60,000 and need regular maintenance, spring and fall preparations and add to your homeowner's insurance.
Best home improvements for adding value to your home:
Steel front door 125%

Kitchen remodel 85%

Attic bedroom 83%

Deck 80%

New siding 80%

New windows 77%

If you're considering buying or selling a property locally or globally, or need more information, CLICK HERE.
---