Tuesday, February 16, 2016 / by Vanessa Saunders
So you're going to sell the estate in Poughkeepsie? The condo on the Upper East Side? Or maybe the house in Stony Point? What can you do that might make it sell a little faster? Paint the man-cave? Undoubtedly. Move grandpa out of the garage? Definitely! But aside from fixing up neglected maintenance and getting your certificate of occupancy up to code, there are three simple steps a seller can take that will make buyers sit up and take notice. None of these things involve lowering your price (assuming the price you have set is realistic and not based on how much you need to buy that retirement property in Boca.) These three fixes don't really cost very much compared to what it will cost if the property doesn't sell quickly, so do them before going to market.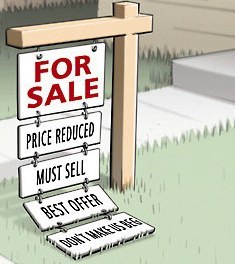 1. Lower your property taxes.
Impossible you say? Beating the tax-man out of his revenue?Can it be done? Absolutely!. According to Bobbie Anne Flower Cox, a real estate lawyer and commercial and residential tax expert from Bronxville, NY, "If you own a property, or are under contract to purchase a property in New York State, the law allows you to "grieve" your property taxes" Cox says. It isn't difficult, and if you want to save yourself a trip to the clerk's office, there are services which will do this for you and all they charge is some or all of the difference in your first-year tax savings. In this instance, lowering taxes is a smart thing to do not for your own tax savings, but for the potential buyer's tax advantages. Lowering property taxes will automatically increase the value of your home, which makes it more desirable to prospective buyers. Buyers will be impressed that a seller has done some of the heavy lifting in making the home more affordable. It makes the buyer's life much easier once they become the new owner.

2. Have an inspection done.
I know, I know. It costs a few hundred bucks. But it's worth it! Hire a professional to inspect the property for defects and environmental hazards, and fix them. A prospective buyer will do the same thing, and when their inspection is done and their professional inspector says "No problems here!," they will be even more motivated to buy, convinced that the property has no significant defects. If you don't, a savy buyer will run an inspection anyway and come to you, the seller, to resolve any problems found or demand a price reduction to cover their costs. Flower-Cox advises, "An inspection will cost you a few hundred dollars, but by doing so, you are being proactive, and helping yourself avoid the headache of dealing with these inevitable issues later."

3. Order a title report.
Title reports show any liens or encumbrances on a property's title. Liens can be your debts, or may be those of a previous owner that are still on the record. Lenders require title reports before they commit to financing a loan, so why not check it out in advance and clear up anything that may be lurking in the background. Too many liens, or ones that may be difficult to resolve can affect a sale.Flower-Cox says, "As an attorney, I have seen many instances where a closing is significantly delayed, and sometimes even cancelled, as a result of excessive or hard to clear liens." Here is another case in which a little time and money now may make a lot of difference in selling your house when it goes to market.
If you need assistance with any of these suggestions, you can Bobbie Anne Flower-Cox at: Cox Lawyers.com or call (914) 779 - 7762.